News
SEMS Industrial Liaison Forum April 2022
6 April 2022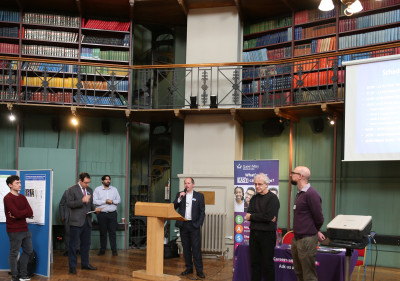 Dr Fenwick kicks off the Industrial Liaison Forum in The Octagon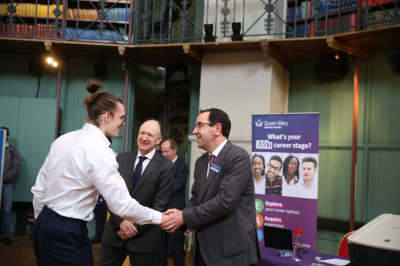 Prize Giving
Our bi-annual Industrial Liaison Forum was held in-person at Queen Mary University of London on 6th April 2022.
We received over 50 external visitors from industry as well as Alumni. The day started with our final year student project showcase, where a fantastic selection of posters were presented by our BEng and MSc students. Our MEng students brought samples, prototypes and posters to highlight their exemplary group project work. The enthusiasm of the presenting students was evident and they fully engaged our visitors and academics. The industry representatives gave excellent feedback on the quality of the presentations. Our judges selected six poster presentations for prizes which were awarded on the day.
We are also grateful to our alumni and industrialists who sat on student-facing panels in the afternoon, answering questions about their career paths, their companies and their roles. This was followed by a Careers & Networking Fair which gave students another chance to engage with employers.
In parallel to this event we collect input on our taught programmes from our Industrial Advisory Board. Another round of excellent feedback from the Board will be fed into our programmes over the coming year.
The school's Industrial Liaison Forum has now been held twice a year for nearly fifteen years and provides an opportunity for students, academics and industrial links to interact and further Queen Mary's strong position and reputation within the engineering and materials science sectors.

The next Industrial Liaison Forum will again be held in the Octagon on 9th November 2022 and will be focused on showcasing our PhD students' research and continuing the annual tradition of celebrating the successes of our undergraduates.