News
EU Commission report on cancer mechanobiology research from Prof Knight's group at QMUL
24 November 2020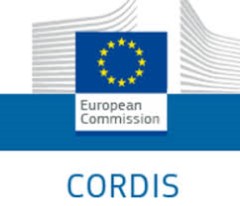 EU Cordis logo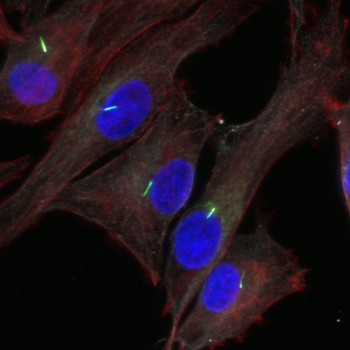 Confocal microscopy image of primary cilia labelled green in a sample of cells (nuclei labelled blue)
The EU Commission have published a report on some of the research into cancer mechanobiology taking place in the Bioengineering Division within School of Engineering and Materials Science at QMUL. The report entitled 'Mechanobiology of METAstatic and DORMant cancer cells in bone marrow lesions', describes research conducted by Dr Verbruggen and Prof Knight investigating breast and prostate cancer and the associated metastasis into bone.
The researcher team are examining the impact of physiological mechanical forces to which our bones are normally exposed and how this influences the complex signalling that takes place between bone cells and cancer cells. Results demonstrate how communication between bone cells and cancer cells controls the development of metastatic bone tumors. The team investigated the particular role of primary cilia which are specialised cellular signalling organelles involved in a variety of biological process important in health and disease.
The work was funded by a Marie Skłodowska-Curie Fellowship which enabled Dr Verbruggen to work with Prof Knight and colleagues at University of Columbia in the USA. The team are continuing the research with a new multidisciplinary grant funding from Cancer Research UK and the Engineering and Physical Sciences Research Council (EPSRC). This new project in collaboration with Dr Pearce at Barts Cancer Institute with further examine the relationship between bone cells and cancer cells by developing an organ-on-a-chip model of bone metastasis with industrial partner, Emulate Inc. This is made possible through the new Queen Mary+Emulate Organs-on-chips Centre which provides access for UK academics to state of the art organ-chip platform technology and validated models.
https://www.cpm.qmul.ac.uk/emulate/
Read the full EU Commission research report on the EU CORDIS website:
https://cordis.europa.eu/article/id/423149-a-novel-interaction-mechanism-in-bone-metastatic-disease