News
Dr Ketao Zhang Honoured with Best Reconfigurable Parallel Mechanism Paper Award of Parallel2020
11 September 2020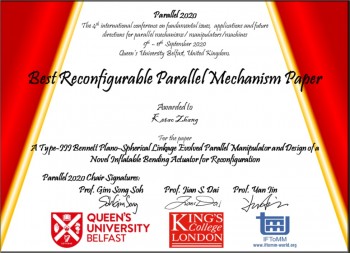 Best Reconfigurable Parallel Mechanism Paper award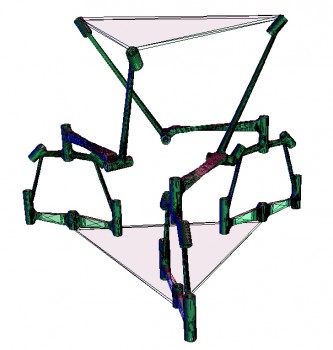 A reconfigurable parallel mechanism capable of structure change
Dr Ketao Zhang's work on parallel robot mechanisms - that can change their structure and functionalities like "Transformers" - has been honoured with the Best Reconfigurable Parallel Mechanism Paper of The 4th International Conference on Fundamental Issues, Applications and Future Research Directions for Parallel Mechanisms / Manipulators / Machines.
The conference was held jointly by Queen's University Belfast and King's College London, 9-11 September 2020. For more information:
https://www.qub.ac.uk/sites/Parallel2020/
A century ago, G.T. Bennett (FRS, 1914) first reported the discovery of two interesting mechanisms for generating rectilinear motion by the use of linkwork and published a paper entitled "The parallel motion of Sarrut and some allied mechanisms". Inspired by the 100-year old mechanism, this honoured paper by Dr Zhang reported a novel reconfigurable parallel robot mechanism based on Bennett's invention and also the new concept of using compressed air powered bending actuators to enable the parallel mechanism to change structure and functionality.
Dr Ketao Zhang, a Lecturer in Robotics at School of Engineering and Materials Science, Queen Mary University of London, has been carrying out research in Parallel Manipulators (also called Parallel Robots) for more than 10 years and has published over 60 theoretical and technical papers. Dr Zhang's work on reconfigurable parallel mechanisms contributed to the cutting-edge research of novel mechanisms and robotic manipulators with flexibility to accommodate structure changes requested in various environments.
| | |
| --- | --- |
| | |
| Website: | |
| People: | |
| SEMS division: | |