News
Giant 'nerve cell' science education centre lands in London's East End
4 March 2019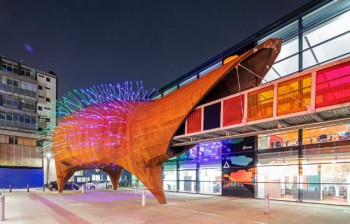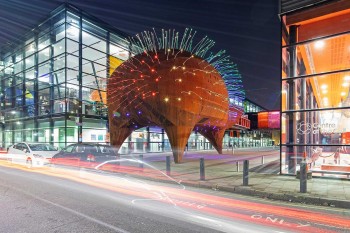 'Neuron Pod' - a striking 23-metre long and 10-metre high free-standing structure – has opened its doors as an informal science learning centre at Queen Mary University of London's Whitechapel campus.

The launch was marked by a visit from children from Christ Church Primary School, Brick Lane, who took part in an interactive science education activity about the biology of 'Snot, Sick and Scabs', run by Centre of the Cell, Queen Mary's informal science learning centre.

Since opening in September 2009, Centre of the Cell has delivered a range of unique educational programmes designed to inspire pupils to pursue a career in the sciences and to engage the public with biomedical research, with more than 180,000 people participating in their activities to date.

Their original embryo-shaped science education centre was the first in the world to be located within working biomedical research laboratories. Planned to address demand, Neuron Pod will help increase visitor numbers, and provide a multi-functional space for live science shows, hands-on workshops, experiments, debates, films and exhibitions.

'A space where people can let their imaginations run riot'

Professor Fran Balkwill, Director of Centre of the Cell, Queen Mary University of London, said: "Neuron Pod will allow us to fulfil our potential and offer so much more to our visitors. What's really important to us is that it increases our ability to interact with the local community. It will be exciting to see how this space evolves and we're hoping it will become a space where people can let their imaginations run riot."

Neuron Pod is designed by the late Professor Will Alsop OBE RA at aLL Design, creator of the existing Pod and surrounding Blizard Institute, which has won numerous design awards. Its design is inspired by images of a nerve cell, following on from the four pods inside the building that were inspired by other cells or molecules. 

Construction of Neuron Pod began in April 2018, which involved welding together 13 large steel sections, each arriving one by one through the Dartford Crossing, with some requiring police escort due to their size.

'Creativity and art as architecture'

Marcos Rosello from aLL Design said: "Neuron Pod shows how you can use creativity and art as architecture by creating an object and space that both delights while being extremely functional. Developing the design alongside the Centre of the Cell team has been a joy."

Speaking at the start of Neuron Pod's construction in April 2018, the late Professor Will Alsop OBE RA, said: "I feel proud to have the opportunity to contribute to this amazing institution. Their work in encouraging young people is extraordinary. I think the new pod will help give young people an even more positive experience."

Neuron Pod will also assist in hosting new adult initiatives in the evenings, provide activities for Key Stage 4 (age 14 - 16) and sixth form school visits, improve disabled access, and increase the Centre's ability to develop programmes for young people with learning difficulties. There are also plans to lease the space for community and corporate events.

 

Inspiring careers in science

Julian Morant, Headteacher at Christ Church Primary School said: "Science plays an incredibly important part of our curriculum, which is very much supported by the opportunities that Centre of the Cell provides. The children enjoy the experience immensely, and get inspired by the activities and interactions with experts in the field.

"Most importantly, these opportunities are about raising expectations and ambitions in these children - so they don't see science and medicine as something that only involves other people elsewhere. We want them to realise that a career in science can be part of their future, which they can aspire to and work hard to achieve."

Sally was raised in Tower Hamlets and first visited Centre of the Cell as an 11 year-old shortly after it opened. Eight years later, she has now returned to Queen Mary University of London as a first year medical student, and is a member of the Centre of the Cell student explainer team, closing the circle on an inspiring childhood experience.

She said: "By going to Centre of the Cell, I found out what science was really about. I realised I actually enjoyed it, and was particularly fascinated by medical science more than other subjects. I then knew that medicine was something I wanted to go into as a career. This new space will hopefully allow many more schoolchildren to have the same inspiring experience that I had."

Funders of the £2m project include Wellcome, Queen Mary University of London, Barts Charity, Wolfson Foundation, Garfield Weston Foundation, Hobson Charity and Gosling Foundation.

Design and construction also involved Total Construction, Littlehampton Welding and AKT II.