News
Mechanical regulation of primary cilia in tendon cells suggests a novel feedback mechanism controlling tendon health and mechanosensitivity.
23 July 2018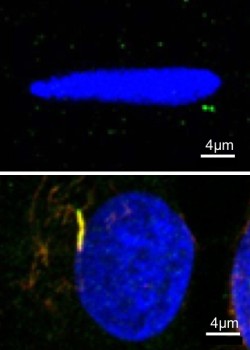 Confocal microscopy images showing tendon cells with primary cilia. Top image is a cell within tendon tissue. Bottom image is an isolated tendon cell growing in vitro. Nucleus labelled in blue, primary cilia labelled with acetylated alpha tubulin (red)
New research from Prof Martin Knight and Prof Hazel Screen's group at Queen Mary University of London reveals a novel feedback mechanism regulating tendon health and homeostasis during mechanical loading.
The study published in Scientific Reports investigates primary cilia in tendon cells subject to physiological and pathological mechanical loading. Primary cilia are slender hair like organelles that regulate a variety of cell functions. Unlike motile cilia, primary cilia do not actively move and exist with only one cilium per cell.
This new study shows for the first time that primary cilia length and prevalence in isolated tendon cells is reduced by mechanical loading, independent of associated changes in tendon tissue. Mechanical loading is known to activate TGFB receptors on the tendon cells thereby regulating tendon health and mechanosensitivity. However the present study showed that activation of these same receptors mediated the mechanically-induced disassembly of cilia. This study therefore suggests a novel feedback mechanism whereby mechanically-induced cilia disassembly inhibits prolonged TGFB receptor activation in response to continuous cyclic loading.
Manipulation of this cellular mechanism may provide novel therapeutic approaches for regulation of tendinopathy associated with excessive or prolonged mechanical loading
The work was conducted by PhD student, Dan Rowson, funded via an EPSRC studentship awarded through the Queen Mary Institute of Bioengineering.
The paper is available free online at
https://rdcu.be/3nBK