News
Study reveals how manipulation of primary cilia may improve cartilage tissue engineering
30 September 2017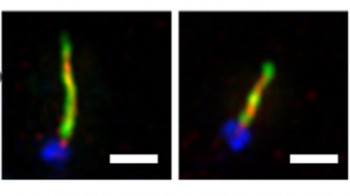 Super resolution microscopy images of chondrocyte primary cilia showing the reduction in cilia length in an expanded cell (right) compared to a freshly isolated cell (left). The scale bars are 2 microns.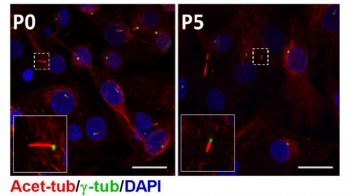 Confocal images showing loss of cilia associated with cell expansion and dedifferentiation. The left image shows freshly isolated cells cultured for 6 days (Passage 0). The right image shows expanded cells (Passage 5).
A new paper from Prof Knight's group shows how expansion of cartilage cells for tissue engineering disrupts primary cilia expression inhibiting associated cellular signalling.
Primary cilia are specialised, hair-like structures found singly in the majority of cell types where they coordinate a variety of cell processes important for tissue development, health, ageing and disease.
Autologous chondrocyte transplantation and other tissue engineering strategies require expansion of cartilage cells prior to implantation. This is associated with dedifferentiation and a loss of cartilage gene expression.
The new study led by post doctoral research assistant, Dr Clare Thompson, found that dedifferentiation of cartilage cells during cell expansion disrupted primary cilia expression and the associated process of hedgehog signalling. The changes in primary cilia are also likely to effect other aspects of cell behaviour coordinated by the primary cilia and important for cartilage health.
Mechanical loading replicated the effects of dedifferentiation but treatment with lithium chloride restored hedgehog signalling by increasing cilia expression and length. This opens up the possibility of pharmaceutical manipulation of primary cilia in order to enhance hedgehog-induced rediferentiation of cells for cartilage repair.
See the full journal paper:
http://www.ecmjournal.org/papers/vol034/pdf/v034a09.pdf

The work is funded by a grant from the Medical Research Council (MRC) entitled 'Osteoarthritis may be treated as an environmental ciliopathy'