News
Virtual Lab project wins prestigious higher education award
1 February 2017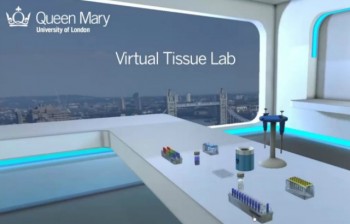 The Virtual Lab, a platform that allows students to learn lab skills in bioengineering and the life sciences, has won the Gold Award at the Life Sciences category.

The Awards celebrate innovative higher education pedagogies which enhance learning and employability across the globe.

The Virtual Lab uses the latest games technology to teach lab skills and to enable the student to practise methods multiple times and learn from mistakes before they experience the real lab.

Since its launch in 2012, the project has achieved overwhelming results: exam marks improved significantly, from 35-78 per cent in 2010-11 to 55-90 per cent in 2015-16. The platform has also saved time and led to reduced teaching costs per module, providing value-added benefit.

Dr Tina Chowdhury, Senior Lecturer in Regenerative Medicine at the School of Engineering and Materials Science, who leads the project said: "I am really excited about winning the Gold Award. The Reimagine Education Awards celebrates all that is truly valuable and innovative about education across the globe. We hope students and academics will be able to access the innovative platform worldwide."

Professor Peter McOwan, Vice Principal for Public Engagement and Student Enterprise said "This is a great example of how cutting edge technology has the power to revolutionise higher education."

The Virtual Lab has already extended across three schools at QMUL, and been adopted by UCL, Eindhoven University and the Open University in collaboration with a technology company Solvexx Solutions.

The winners of the third annual Reimagine Education Awards were announced at an exclusive gala dinner held at the National Constitution Centre in Philadelphia in December 2016.
| | |
| --- | --- |
| | |
| Contact: | Tina Chowdhury |
| Website: | |
| People: | |
| SEMS division: | |