News
The Virtual Lab shortlisted for prestigious higher education award
15 November 2016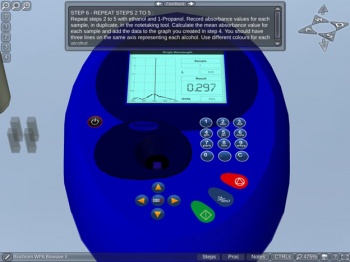 The Virtual Lab, a platform that allows students to learn lab skills in bioengineering and the life sciences has been nominated for the e-Learning Innovation category in the Reimagine Education Awards 2016.

Dr Tina Chowdhury, Senior Lecturer in Regenerative Medicine at the School of Engineering and Materials Science, said: "I'm delighted The Virtual Lab has be nominated for the Reimagine Education Awards. The Virtual Lab is an interactive environment that helps young people to learn lab skills and understand research-led topics in bioengineering. Students have been very positive and I am excited that The Virtual Lab can be used by anyone at QMUL at any time."

During the 2015-16 period, 1,200 QMUL students from different disciplines in engineering and the life sciences practised methods in The Virtual Lab before real lab sessions.
Exam marks improved significantly as a result, from 35-78 per cent in 2010-11 to 55-90 per cent in 2015-16.

The platform has also been adopted by UCL, Eindhoven University and the Open University in collaboration with a technology company Solvexx Solutions and has been extended across three Schools at QMUL.
The Awards promote themselves as 'the global awards for innovative higher education pedagogies enhancing learning and employability'. The Reimagine Education Awards ceremony will take place on 6 December 2016 at the Reimagine Education Conference, and the overall winner will take home a $50,000 cash prize.

The QConsult Commercial scheme run by the QMUL Careers and Enterprise team was nominated in the Nurturing Employability category at the awards.
Updated by: Laura Crane-Brewer