News
Opening young minds to bioengineering
5 May 2016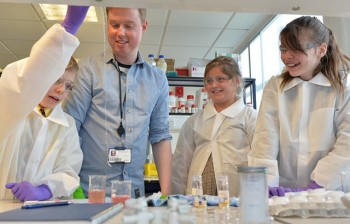 The children make biomaterials with James Taylor. Examples include worms and beans from seaweed and sugar that can easily change shape.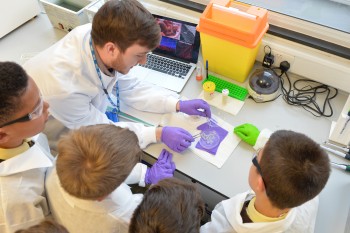 Stretching fetal membranes with Dr David Barrett.
A pioneering scheme called The Bioengineering Experience, developed for school children to explore advances in science, engineering and materials hosted a group of ten-year olds from St Joseph's in the Park returning for their second visit to Queen Mary University of London (QMUL).

Led by Dr Tina Chowdhury from the Institute of Bioengineering (IOB) at QMUL, the Bioengineering Experience encourages children to take part in hands-on investigative activities and meet scientists working in cutting-edge research.

Activities included making 'worms' out of alginate, a non-toxic material derived from seaweed that easily changes shape, and 'pink beans' using agarose, a common type of sugar. Both types of materials are used to grow tissues found in cartilage and are being used to repair diseases such as osteoarthritis.

One of the children said: "The bioengineering experience has made me think about what I want to be when I get older."
Updated by: Corinne Hanlon