UKJEEL 2019: Accommodation
On Campus
Accommodation has been reserved on campus for both PhD students and Academics. The Queen Mary University of London accommodation is close to the Regent's Canal and some rooms over look Mile End Park.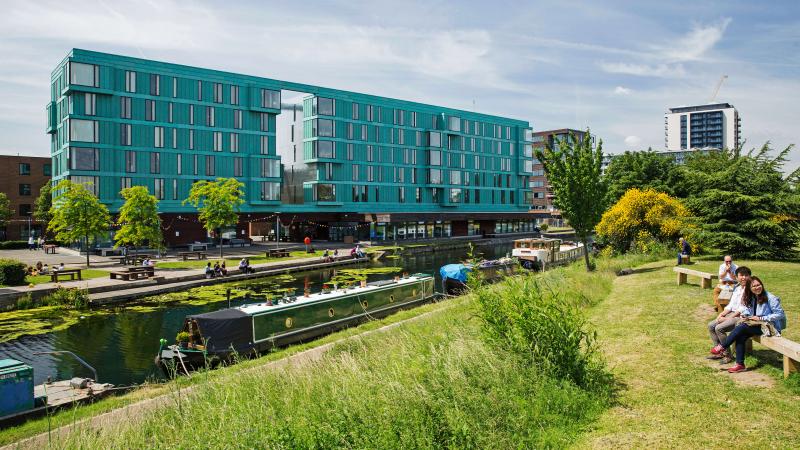 Academics accommodation has been booked in Sir Christopher France House (Number 55 on campus map) over looking the Regents Canal and a few minutes walk to ArtsOne the conference venue cost £65.00 per room per night. These are staff flats so designed for academics visiting for a few days up to a Semester or so. there rooms are available from Wednesday 4th September to leaving on Sunday 8th September. If you need additional dates, please as and we can see if extra days are available. More information will available at:
If you wish to book one of these rooms please e-mail ukjeel@qmul.ac.uk  
Student accommodation is available on campus
To book delegates  visit the website below and use the link detailed to bring up the allocation:
Website: https://book.qmaccommodation.co.uk/
Promotional code: UKJEEL19
Rate per night: £49.00 per room per night including breakfast and VAT – full payment at the time of booking.
When you visit the website please put in the promotional code I(UKJEEL19) and dates you wish to book between the 04 -08 September and if rooms are still available in the allocation they will come up.  If you wish to stay longer than 04 -08 September you will need to put the dates in, but no promotional code and if there are rooms available in the 'holiday' allocation these will come up – please note these will be in the student village but the other residents in the flats will not be linked to the UKJEEL event.
Off Campus Hotels
2 star
3 star
4 star
5 star