News
Queen Mary joins The International Council on Systems Engineering (INCOSE) UK Advisory Board
3 October 2023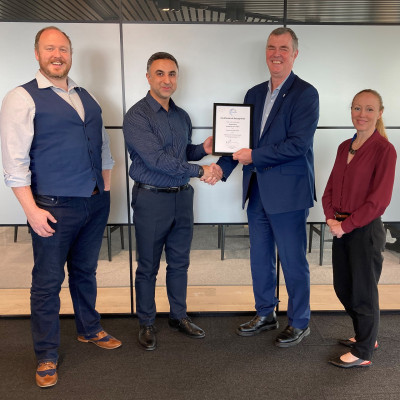 Certificate of recognition presented to SEMS' Dr Mohammad Hassannezhad
Queen Mary University of London (QMUL) has joined the Advisory Board of The International Council on Systems Engineering (INCOSE) UK branch as a Corporate Member in April 2023. The certificate of recognition was presented to Dr Mohammad Hassannezhad from the School of Engineering and during the last Advisory Board meeting held at AECOM, London.
The Board provides a forum for leading UK Systems Engineering organisations (within industry, government and academia) to influence Systems Engineering agenda in the UK - state of the art, direction, structure, and practice.
More information about benefits and responsibilities of Board Members as well as the full list of involving organisations can be found at INCOSE UK website .