News
Student team makes an impact at European Hyperloop Week
31 July 2023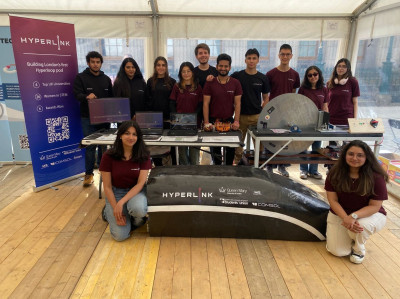 Hyperlink students presenting in the European Hyperloop Week
A group of students from the Hyperlink London society, most of whom study Engineering and Materials Science programmes at Queen Mary, recently showcased their work at European Hyperloop Week.
European Hyperloop Week is a yearly international event dedicated to the Hyperloop - a futuristic transportation concept which combines elements of trains with advanced technology, to create a super-fast mode of travel. The event allows university students, guest speakers, companies and hyperloop enthusiasts to discuss the technology, feasibility and scalability of the Hyperloop.
Supporters envision the Hyperloop as a long tube containing a special capsule, which has the ability to carry passengers or cargo. Instead of having wheels, it floats or hovers using magnetic levitation technology. This reduces friction and allows the pod to move very fast. It is thought that the Hyperloop could potentially reach speeds of over 700 miles per hour, if it can be built.
The group from Queen Mary were able to show that they have successfully deployed their prototype Hyperloop pod, which includes a linear induction motor (LIM), an eddy current braking system, and a handcrafted carbon fibre shell with an aluminium chassis. They received strong supporting comments from the conference's judge about their pod's fast progress, as well as their unique focus on biomedical applications of the Hyperloop.
The group writes:
"Hyperlink is making history by spearheading the creation of London's first hyperloop pod, venturing into the thrilling realm of high-speed transportation systems. Despite a tight budget and workspace constraints, we have been diligently working on ground-breaking technology with the potential to revolutionise the way we travel.
In an astonishing display of skill and determination, this team, led by Balvinder Dhillon, accomplished an incredible feat within a mere 7 months. The complexity and precision required for these accomplishments speak volumes about the engineering brilliance of team members Octavio Echeverría, Dalir Kosimov, Bhavyakumar Khasetiya, and Pawan Matabadul.
Hyperlink's impact extends far beyond our university campus. Our resolute pursuit of cutting-edge technology, coupled with our unique biomedical focus led by Farah Dawoud, showcases the power of student-led initiatives in driving progress and inspiring change on a global scale."
Find out more about the society on their website: https://www.hyperlinklondon.com/
| | |
| --- | --- |
| | |
| Website: | |
| People: | |
| Research Centres: | |