News
SEMS Hyperlink student team makes an impact at the European Hyperloop Week
31 July 2023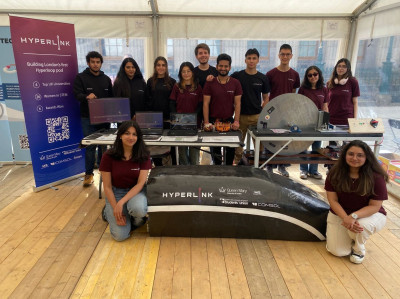 Hyperlink students presenting in the European Hyperloop Week
A group of Hyperlink London students mainly based at the School of Engineering and Materials Science at QMUL recently attended the European Hyperloop Week.
The group has successfully deployed its prototype that includes a linear induction motor (LIM), an eddy current braking system, supporting electronics, and a handcrafted carbon fibre shell with an aluminium chassis. The group has received strong supporting comments from the judge about its fast progress and its leading biomedical innovation for hyperloop transport concept.
The group writes:
"Hyperlink, at the forefront of innovation, is making history by spearheading the creation of London's first hyperloop pod, revolutionising the way we travel and venturing into the thrilling realm of high-speed transportation systems. Despite a tight budget and workspace constraints, this exceptional team has been diligently working on ground-breaking technology with the potential to revolutionise the way we travel.
"At the prestigious European Hyperloop Week, Hyperlink catapulted into the international spotlight, drawing attention from audiences across continents, spanning from North America to Asia. In an astonishing display of skill and determination, this team, led by Balvinder Dhillon, accomplished an incredible feat within a mere 7 months.
"Their technical prowess is evident in the successful development of a fully functioning linear induction motor (LIM), a cutting-edge Eddy current braking system, state-of-the-art electronics, and a meticulously handcrafted carbon fibre shell with an aluminium chassis. The complexity and precision required for these accomplishments speak volumes about the engineering brilliance of team members Octavio Echeverría, Dalir Kosimov, Bhavyakumar Khasetiya, and Pawan Matabadul, who turned the dream into a tangible reality.
"Despite being only their second year in competition, Hyperlink left the judges astounded with their innovation and ingenuity, achieving extraordinary results under challenging circumstances. The team's dedication to biomedical research, led by Farah Dawoud, also garnered recognition as they became the sole team in the world to delve into the biomedical aspects of the hyperloop.
"Hyperlink's impact extends far beyond their university campus. Their resolute pursuit of cutting-edge technology, coupled with their unique biomedical focus, showcases the power of student-led initiatives in driving progress and inspiring change on a global scale.
| | |
| --- | --- |
| | |
| Website: | |
| People: | |
| Research Centres: | |