News
Queen Mary's Innovative Digital Health Collaboration Workshop: A Landmark Confluence of Minds in Healthcare AI
18 July 2023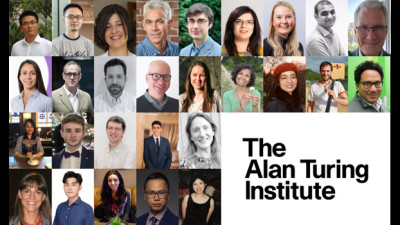 Digital Health Workshop
Queen Mary University of London (QMUL), University College London and Imperial College London. hosted a successful Multi-scale & Multi-modality Digital Health Collaboration Workshop on Tuesday, 18th July. Supported by the local organising team of QMUL's Digital Environment Research Institute (DERI) and Centre for Bioengineering, this event brought together an impressive group of 122 participants from numerous universities, institutes, and industry partners to Queen Mary Whitechapel Campus.
Supported generously by the Alan Turing Institute and chaired by Dr Caroline Roney, this workshop served as a catalyst for innovation and collaboration in the sphere of digital health, fostering the exchange of knowledge and insights across a wide array of fields.
Reflecting on the event, Dr Roney expressed, "Our workshop emerged as a diverse and vibrant platform that brought together thought leaders in digital health from around the globe. We enjoyed a day of enriching discussions and are thrilled about the potential collaborative projects that can redefine the intersection of health and technology."
Greg Slabaugh, the Director of DERI at Queen Mary, praised the event saying, "Our workshop uniquely brought together researchers, scientists, engineers and clinicians from London, Oxford and Cambridge, creating a dynamic intersection of knowledge and innovation in digital health. This event has positioned Queen Mary as a key player in the future of digital health research."
The workshop, held at the Clark Kennedy Lecture theatre at Queen Mary, offered a comprehensive agenda, from physics-based models and machine learning to digital health in practice. Renowned speakers from top academic institutions and companies presented their latest research, stimulating intellectual discourse and collaborative exploration.
The Director of the Centre for Bioengineering at Queen Mary, Zion Tse, echoed the sentiment, "The diversity of topics covered in digital health and the breadth of participants' expertise were truly impressive. It underscores the importance of multidisciplinary collaboration in fostering innovation in this domain."
The day concluded with an insightful Career Session, where panellists from institutions like GE HealthCare and Cambridge Design Partnership, provided career development insights and networking opportunities.
For more details about future events akin to the Multi-scale & Multi-modality Digital Health Collaboration Workshop, please visit the Alan Turing Institute.
About QMUL: Queen Mary University of London is ranked 2nd from all UK universities for the quality of our Engineering research outputs (REF21) with a renowned commitment to an interdisciplinary approach and innovation in education and research.