News
Professor Kaspar Althoefer co-chairs the prestigious IEEE International Conference on Robotics and Automation 2023
16 June 2023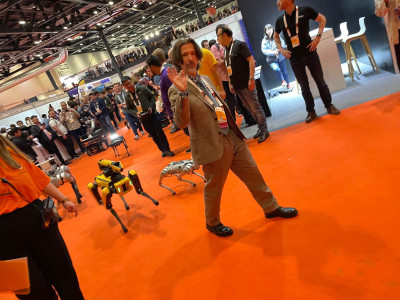 Kaspar leading the robot parade at IEEE ICRA 2023
The centre for Advanced Robotic at their stand at IEEE ICRA 2023
The largest and most prestigious conference on robotics, IEEE International Conference on Robotics and Automation 2023 (ICRA) was held in the ExCeL centre, London, May 29 - June 2, 2023. The conference was co-organised by the Centre of Advanced Robotics at Queen Mary (ARQ) and was co-chaired by Professor Kaspar Althoefer, SEMS academic and head of ARQ.
Taking place for the first time in the UK, London provided the perfect backdrop to this world-class event. Over 6000 delegates took part in the conference, making the 2023 edition the largest ever robotics conference. Established in 1984 and held annually, the ICRA conference joins experts in the field of robotics and automation for technical communications through presentations and discussions. The conference creates a remarkable environment to indulge all the delegates in the frontier of science and technology in robotics and automation.
In addition to the oral talks, posters, keynotes, workshops and competitions, the conference featured industrial and research exhibition. The centre for Advanced Robotics presented their research on robotic manipulation, soft robotics, medical robots and field robotics at a dedicated QMUL stand that was funded by the ARQ and its sponsors.
Read More
| | |
| --- | --- |
| | |
| Contact: | Kaspar Althoefer |
| Website: | |
| People: | |
| Research Centre: | |