News
New research identifies which cells in horses' tendons are affected by ageing, leading to injury
23 May 2023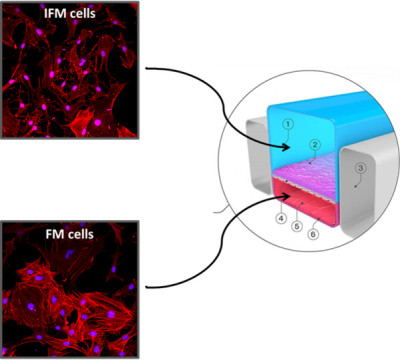 IFM cells
A group of researchers including Queen Mary Professor Hazel Screen have been exploring what causes tendon damage in horses and have discovered that a particular region of the tendon called the interfascicular matrix (IFM) seems to be the source of ageing changes.
As horse and human tendons are similar, these significant findings can now help us understand the cell populations that drive tendon injury in humans to identify and test new treatments.
Tendons connect muscle to bone. In normal use the cells in tendon repair any damage that occurs from use to ensure the tendon remains healthy, but this process appears to become less efficient with ageing and the risk of injury increases in both humans and horses.
A team of researchers including Dr Chavaunne Thorpe (RVC), Professor Peter Clegg (University of Liverpool), Professor Hazel Screen (Queen Mary University of London) and Professor Helen Birch (UCL) worked with post-doctoral research scientist Dr Danae Zamboulis to compared cells in young and old tendons to better define the different cell populations, see how each population is impacted by ageing and why this might prevent effective tendon repair.
The paper was published on 22 May 2023 in Aging and Disease and the results show that most changes due to ageing occur to cells in the IFM region of tendon. The population of IFM cells is understudied , but the teams' work has now provided knowledge about the unique signature of these cells which will enable them to extract IFM cells from tendon samples and use them to determine what makes injury more likely to occur with age in these cells. This is an important step that will encourage more research in what drives injury and possible treatments for both horses and humans.
Professor of Biomedical Engineering Hazel Screen from the School of Engineering and Materials Science at Queen Mary University of London said "We are now looking at how IFM cells interact with the other cells in tendon to drive disease and how we can control that process to retain tendon health, including testing treatments."
"At QMUL, we are now using organ-chip technology to explore tendon disease. An organ-chip is a bioengineered system we design, to recreate key physical, chemical and biological aspects of a living organ. I am building a tendon-chip to test new drugs and treatments for tendon disease. Using what we've learned about horses' tendons, in the future I will be able to extract human tendon cells from patient biopsies or surgery and build an organ-chip model of a human tendon which can be used for drug discovery and testing."
Dr Chavaunne Thorpe, Lecturer in Basic Sciences at the RVC and lead author, said "Our results uncover just how complex and variable cell populations within tendons are and show that some cells are particularly prone to age-related alterations, helping to explain why the risk of tendon injury is higher in older individuals."
"The findings of these experiments will allow future studies to develop therapeutics for tendon injuries targeted at specific cell populations."
Dr Danae Zamboulis, Postdoctoral Researcher at the RVC, said "This study is an exciting step towards understanding the cells that regulate tendon function and injury."