News
New "Aeroacoustics of Dynamic Stall" project funded by EPSRC
20 December 2022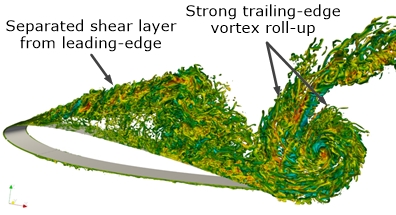 GPU WMLES of a stalled NACA 0012 at α = 14.5 deg. capturing the leading-edge separated shear layer and extensive trailng-edge vortex roll-up.
The team of Queen Mary engineers together with colleagues from the University of Bristol and the University of Cambridge has been awarded a significant EPSRC funding to work on dynamic stall noise, using a combination of experimental, computational, and mathematical modelling techniques.
Aerodynamic noise from transport vehicles and wind turbines is known to be one of the most intrusive types of noise pollution. Amongst various noise sources, aerofoil noise is very important in many applications. While aerofoils are designed to achieve maximum aerodynamic performance by operating at high angles of attack, they become very susceptible to flow separation and stall due to changing inflow conditions. At the same time, separation and stall can lead to a drastic reduction in aerodynamic performance and significantly increased aerodynamic noise. In applications involving rotating blades, the near-stall operation of blades, when subjected to highly dynamic inflows, gives rise to an even more complex phenomenon, known as dynamic stall. Wind turbine blades and rotors in edge-wise transition are especially prone to dynamic stall noise.
In this project, the Queen Mary team will perform high-resolution Large Eddy Simulations accelerated on GPU cards to investigate the mechanisms of dynamic stall noise, as well as the potential control techniques to mitigate it. The consortium project led by the University of Bristol is 42 months, and the amount of funding for the Queen Mary team is £478,638.