News
Teams of bee-like drones are ready to 3D-print buildings
22 September 2022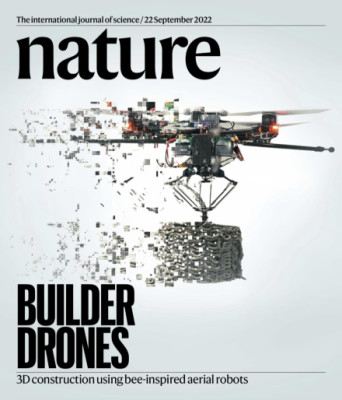 Credit: Nature
"The homes and cities of the future could be built with the help of autonomous robots," says Queen Mary's Dr Ketao Zhang.
Researchers have created a team of drones that can print 3D constructions while they are flying. These flying robots can coordinate and make decisions about how to print objects that are bigger than themselves – expanding the horizons of the construction industry.
Previous trials of using 3D printing for construction involved ground-based robots, which lacked agility. To solve this, the researchers looked to mimic natural builders such as bees and wasps. Because their drones can print while flying, they can also build in hard-to-reach places and hostile environments.
Study first-author Dr Ketao Zhang, Lecturer in Robotics at Queen Mary University of London, said: 'Natural systems have long been sources of inspiration for engineers making smart artificial machines. The specialist structural engineers in nature – and their construction approach in building their habitats – are very scalable and adaptable.
For now, we've shown that it's possible for flying robots to build and repair structures. This is an exciting step in robotics. The homes and cities of the future could be built with the help of autonomous robots.'
To perform the tasks they wanted, the drones needed to be able to follow a printing path strategy, to assess the quality of their work, to broadcast their activities to one another, and to autonomously make decisions in response to external and team factors.
The researchers behind the robots, led by Imperial College London and Empa, the Swiss Federal Laboratories of Materials Science and Technology, as well as Queen Mary University of London and others, have called the approach Aerial Additive Manufacturing (Aerial-AM), in a paper published in Nature.
Autonomous decision-making
The researchers for the first time developed scalable swarm-based control system for Aerial-AM using multiple autonomous drones while flying. They used the multi-disciplinary physical artificial intelligence development method to enable the drones to behave like a team of builders.
The researchers achieved this by using 'BuilDrones' to print cementitious materials, while 'ScanDrones' assessed the work and instructed the BuilDrones. The drones were capable of live autonomous task allocation, spatial collision awareness, and making decisions about how to work effectively.
For example, during one experiment some of the drones decided to retire themselves, because there were too many of them in the available space.
The teams of drones were able to print large-scale geometrical objects including a 2m high cylinder made of a polyurethane-based foam material, and an 18-centimetre-high cylinder with a custom-designed structural cement-like material.
Reducing emissions
The Aerial-AM approach promises to help the construction industry adapt and respond to climate change. It could also help tackle the problem of labour shortages in the sector.
Dr Zhang said: 'This new approach, involving minimal transport beyond raw material supplies, offers a promising solution for reducing global CO2 emissions and materials waste generated by the construction industry.
The construction industry is increasingly adopting robotics-based technologies. These are increasing productivity and reducing human-labour in hazardous and labour-intensive tasks in the sector.'
This work was funded by the Engineering and Physical Sciences Research Council (part of UKRI), the Royal Society, the European Commission's Horizon 2020 Programme, Royal Thai Government Scholarship and a University of Bath Research Scholarship. The project is also supported by Industrial Partners Skanska, Ultimaker, Buro Happold, and BR.
Co-investigators include Robert Stuart-Smith, Stefan Leutenegger, Vijay Pawar, Richard Ball, Chris Williams and Paul Shepherd, and their research teams at UCL, University of Bath, University of Pennsylvania, Queen Mary University of London, and University of Munich.
The research was launched by Assistant Professor Stuart-Smith at UCL and University of Pennsylvania and Professor Kovac at Imperial and Empa after a pilot research collaboration and award for a demonstration on pipeline repair.