News
The Composite Group Welcomes its Royce Summer Intern
7 September 2022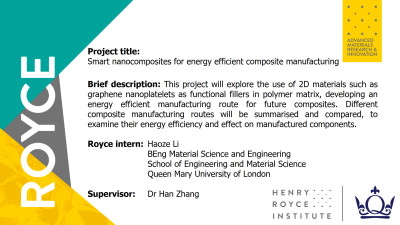 Smart nanocomposites for energy efficient composite manufacturing
The Composites group is delighted to introduce the newest group member, Haoze Li.
Haoze is starting the third year of his BEng Materials Science and Engineering programme within the School and will join the group on a ten-week summer internship, kindly funded by the Henry Royce Institute and supported by the School.
Under the supervision of Dr Han Zhang and guidance of his PhD students, Haoze will explore new methods to reduce the high energy costs associated with the conventional curing of composite parts by using 2D nanomaterials as functional fillers. He will compare and characterize several manufacturing routes on the mechanical, electrical and functional performance of polymer nanocomposites. He will also gain invaluable practical skills for polymer processing with nanomaterials and develop his understanding of structure-process-property relationships in advanced nanocomposites.
We wish Haoze a very successful and productive time with us and we look forward to some great results!
| | |
| --- | --- |
| | |
| Contact: | Han Zhang |
| People: | |
| Research Centre: | |