News
Eduardo Yanes Nunez successfully completes his PhD in the Soft Matter Group
16 June 2022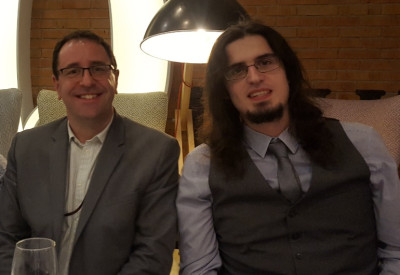 Eduardo (on the right) pictured with his supervisor Prof James Busfield
Eduardo Yanes Nunez has become the latest member of James Busfield's Soft Matter Group to pass their PhD exam. Eduardo completed his PhD viva on the 16th June defending a thesis entitled, "Frictional Behaviour of Elastomer Seals." This was the fourth industrially funded PhD project sponsored by Schlumberger completed in James' group. The PhD examiners commented that Eduardo's, "work was of a high scientific level with a significant technological relevance".
Eduardo has been offered a position working for Datwyler in Switzerland, who are a leading supplier of system-critical elastomer component. He will continue to work in elastomers and he will join a team that already includes two former PhD students from James' group. This position will allow him to apply the expertise that he developed throughout his PhD studies.
Schlumberger continues to sponsor projects in the Soft Matter Group with two ongoing EPSRC iCASE PhD projects.