News
Anureet Kaur wins the IRCO Prize at IRC2021
30 June 2022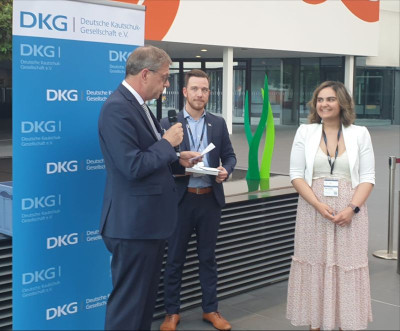 Anureet Receives the IRCO best student prize.
The postponed International Rubber Conference 2021 has just completed in Germany. In the closing ceremony, Anureet Kaur from James Busfield's Soft Matter Group took home the IRCO Best Student Presentation Award for her paper on "Development of Self-Healable and Recyclable Elastomers."
The judging was done using online voting from the audience in every session that a student presented. Anureet presented work that has recently been published in Polymers on "A Novel Crosslinking System for Poly‐Chloroprene Rubber to Enable Recyclability and Introduce Self‐Healing" with co-supervision and support at QMUL from Julien Gautrot, Gabriele Cavalli and Keizo Akutagawa. Anureet's project is sponsored by Weir Group.
Anureet's supervisor, Prof James Busfield commented that, "The award was particularly welcome as this is the first conference that Anureet has actually presented at in person due to COVID restrictions over the last few years. Also, IRC 2021 is the second consecutive IRC in which one of his team has picked up this IRCO best student prize, as Dr Leihao Chen won the same award back at IRC2019 in London. There is now added pressure on the students in the group that will go to India to present at IRC2022."