News
IOM3 awards: Queen Mary scoops up four prizes for engineering and materials science
9 June 2022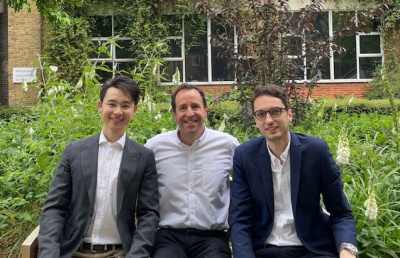 Dr Han Zhang, Professor James Busfield and Dr Dimitrios Papageorgiou
The School of Engineering and Materials Science goes from strength to strength as researchers pick up four awards and medals from the Institute of Materials, Minerals and Mining (IOM3)
The IOM3 presents a range of awards, medals and prizes in recognition of personal achievement, for published work and for contributions to the profession.
Queen Mary are one of the most frequently featured universities on the IOM3's winners' lists - this is a particularly successful year, coming shortly after Queen Mary was ranked 7th in the UK for Engineering in the Research Excellence Framework (REF) 2021.
Professor Hazel Screen, Head of the School of Engineering and Materials Science (SEMS), said: "This is fantastic news. My warmest congratulations to our SEMS colleagues for their success in winning such competitive awards, that recognise their outstanding work in the materials engineering field."
Professor James Busfield, Deputy Head of SEMS, said: "I'm thrilled to see our success this year. It is a great reflection of the high calibre of our materials engineering colleagues and our students that four of our team have been recognised by the IOM3 by the award of these highly competitive prizes today."
The winners are:
Dr Han Zhang, Senior Lecturer in Materials Science - Premier Award, Silver Medal
Dr Zhang completed his PhD in 2016, with more than 10 publications from his research contributing to the early establishment of nano-engineered hierarchical smart polymer composites in the UK. He has leading expertise in multifunctional composites and nanocomposites, with recent research focuses on the sustainable development of composite materials, developing energy-efficient manufacturing and easy-repairable structural composites towards the Net Zero. His significant contribution to the field of composites includes more than 60 peer-reviewed papers, with more than 1700 citations and an h-index of 22 in last five years - among the highest at this stage of the academic career. His research findings have led to commercialisation of new products in collaboration with UK companies. Meanwhile he has been committed both to promoting Materials Science internationally, and to nurturing new talent. He has supervised over 30 students and encouraged them to pursue careers in the field of materials science.
The silver medal is awarded to an IOM3 member in their early career who has made an outstanding contribution to a field of interest within the materials, minerals and mining sector. It is the first time that this premier award has been awarded to Queen Mary.
Dr Dimitrios Papageorgiou - Rosenhain Medal & Prize
Dr Papageorgiou's research has transformed the understanding of the relationships between structure and property in polymers and composites reinforced with high-performing two-dimensional materials. The utilisation of Raman spectroscopy in situ with various modes of strain that he specializes, have enabled a detailed identification of the stress transfer mechanisms and a highly accurate monitoring of strain in composites and nanomaterials. Properties such as the gas/liquid barrier and the electrical conductivity of nanocomposites alongside different modes of mechanical reinforcement can now be effectively modelled thanks to his work. He has also solved a long-standing debate of the field by demonstrating that continuum mechanics are still applicable at the nanoscale for high-performing nanomaterials and polymer nanocomposites.
Dr Papageorgiou's work on two-dimensional materials has attracted the attention of the composites community, leading to a large number of high-impact and highly-cited papers. He has published more than 80 research articles in highly reputed journals, with an h-index of 34 - one paper amassed >1400 citations in less than 5 years. He has been a vibrant member of the community, delivering key papers and invited talks internationally.
The Rosenhain Medal and Prize recognises distinguished achievement in any branch of materials science.
Professor Andrew Lewis - Gold Medal
Over his distinguished 30-year career Professor Lewis has developed technologies that have been seen a range of potentially life-saving healthcare applications. These include novel drug-device combination products for use in interventional therapies, such as the treatment of cardiovascular disease and cancer, as well as medical devices and drug and vaccine delivery technologies. Early in his career he developed first commercial drug-eluting bead (DEB) technology for the locoregional treatment of malignancies in the liver - this is now globally a first line tool to treat liver cancer.
During the course of his research, Andy has collaborated extensively with academia and is currently a Royal Academy of Engineering Visiting Professor in SEMS
The Gold Medal is awarded for significant contribution to the industrial application of materials.
Philip Antonio Hurrell - James S Walker Award
Mr Hurrell has received this award for his MSc dissertation, 'Wear of carbon black reinforced natural rubber compounds', focusing on tyres. The abrasion resistance of a tyre is one of its most important properties. He investigated the effect of basic morphological carbon black properties on abrasion resistance for carbon black reinforced natural rubber (NR) compounds, testing five different wheels with different CB grades. His important findings can help tyre manufacturers engineer formulations to increase the working life of tyres.
The James S Walker Award is presented to a student for an already examined project on the subject of polymers.