News
QMUL-NPU collaboration develops a novel generation of nanostructured responsive biosensors
26 February 2021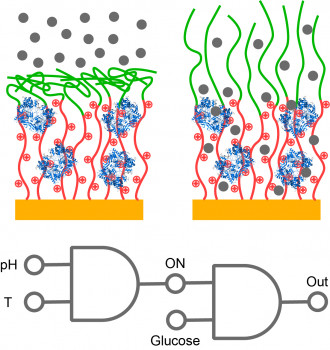 Responsive nanostructured biosensors for the design of biocatalytic gates.
A collaborative team led by Prof Julien Gautrot from QMUL and Prof. Xiaoyan Ma from NPU (Northwestern Polytechnical University, Xi'an, China) has developed a novel strategy for the design of nanostructured biosensors.

Bringing biocatalytic sites close to the surface of electrodes is essential in order to optimise electron transfer and electrochemical reactions in biosensors. However, this is typically difficult to achieve via nanostructured polymeric coatings. In an article published in Biosensors and Bioelectronics, the QMUL-NPU collaborative team is demonstrating that block-copolymer re-initiation post biocatalyst immobilisation is possible and enables the precise design of biocatalytic nanostructured coatings at electrodes. This enables a remarkable level of control of biocatalytic properties, whilst retaining excellent responsive properties. Such nanostructured interfaces may be applied to the design of a new generation of biosensors for continuous monitoring of biomarkers and point-of-care diagnostics.