News
Scientists at Queen Mary developed extremely energy-efficient manufacturing for future composites, reported by the Materials World magazine in its latest issue
7 May 2020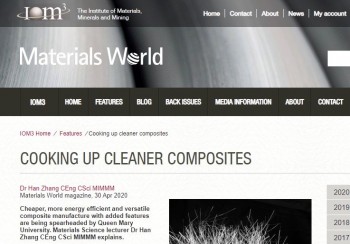 "Cooking up cleaner composites" reported by Materials World magazine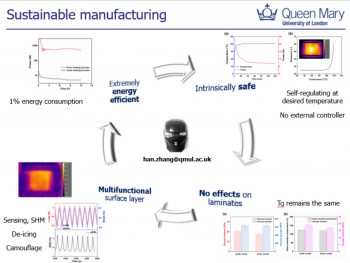 Overview of sustainable manufacturing with multifunctional properties
Research led by Dr Han Zhang at the School of Engineering and Materials Science, Queen Mary University of London, has devised a sustainable manufacturing method for future composites towards the clean growth of the composite sector. An extremely energy-efficient and intrinsically safe curing process has been developed based on nanostructured materials. More than 99% of energy can be saved compared to state-of-the-art methods, with part quality remained intact and added new functionalities.

The research findings have been published in Composites Science and Technology, earlier this year, and also reported by Materials World magazine in the latest May issue (Cooking up cleaner composites).

With the ever-increasing demand for clean growth in manufacturing for environmental sustainability, this novel energy-efficient method has received great interest from the UK composite industries.

Dr Zhang - a leading academic in the field of multi-functional composites at Queen Mary - is also open for new collaborations on this topic in order to provide tailored sustainable manufacturing solutions, enabling clean growth for the composite sector in the UK.