News
First outcome of our 'Hacking Hearts' art and science outreach collaboration with Central Saint Martins released online
19 February 2020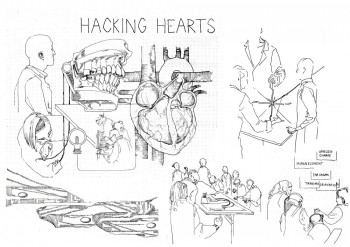 Hacking Hearts illustration by Libby Morrell who followed the workshop with her amazing line drawings
Central Saint Martins published a first story about the outcome or our art and science collaboration.
This fast-paced project saw postgraduate students from across disciplines hack the research of our inaugural Scientists in Residence over the course of a week.
You can read here: https://www.arts.ac.uk/colleges/central-saint-martins/stories/hacking-hearts
more about this project and watch here: https://vimeo.com/391458635 a video of one of the three resulting projects that were performed in the public symposium.
A documentary video and other output will be released later this year.