News
Dan Bader Gives His Valedictory Lecture in Technical University of Eindhoven
24 January 2020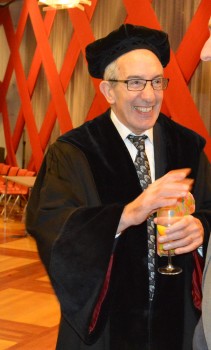 Prof Dan Bader
During his time as Professor of Medical Engineering at Queen Mary University of London, Prof Bader was also a part-time visiting professor in the Technical University of Eindhoven (Tu/E). There he worked closely with Prof Cees Oomens in the area of pressure ulcers as well as continuing his work on cartilage biomechanics and tissue engineering.

After 18 years as a visiting professor, Prof Bader celebrated the end of his appointment and this hugely successful bioengineering collaboration with a special symposium on Soft Tissue Damage. This involved five speakers from Prof Bader's collaborations over the years including QMUL (Martin Knight), Eindhoven and more recently Southampton, and was followed by his valedictory lecture entitled 'Biomechanics of soft tissue damage – a collaboration in 7 courses'.

The event was attended by approximately 200 friends and colleagues in the Blue room at Tu/E.
| | |
| --- | --- |
| | |
| Contact: | Julia Shelton |
| Tel: | +44 (0)20 7882 8877 |
| Website: | |
| People: | |
| SEMS division: | |