News
Funding awarded to develop kidney-on-a-chip for animal free drug testing
14 May 2019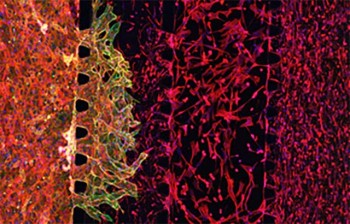 Microvascularised organ-on-chip platform developed in the Gautrot Lab
A Queen Mary researcher has been awarded funding to develop artificial kidneys, known as kidney-on-a-chip, to avoid testing drugs on animals.

Dr Julien Gautrot, from the School of Engineering and Materials Science, was awarded the £50,000 grant from The National Centre for the Replacement, Refinement and Reduction of Animals in Research (NC3Rs).

Nephrotoxicity, or toxicity in the kidneys, is a common side effect of many drugs. Animals remain the primary models for assessing the nephrotoxic potential of new drugs, despite being poorly predictive of kidney toxicity in patients.

In this project, Dr Gautrot will integrate in vitro kidney organoid models, developed by the Medicines Discovery Catapult, into microfluidic chips previously developed with NC3Rs funding.

These organ-on-a-chip devices are miniaturised artificial organs, which can be used in a laboratory to test drugs and understand how the body responds.

This will enable the development of microvascularised structures, currently lacking in the organoid model, to better mimic key processes associated with kidney diseases and toxicity such as angiogenesis and apoptosis.

Moving towards the clinic

Dr Gautrot said: "I'm very pleased to be awarded the funding from NC3Rs to develop this idea. Applying these models early in medicines discovery will support the best selection of drugs to move towards the clinic whilst reducing animal testing."

Four grants totalling £200k have been awarded by NC3Rs as part of its new Technologies to Tools (T2T) scheme, launched as a strategic collaboration with Medicines Discovery Catapult. The awards will support the translation of technologies developed through NC3Rs grant funding into industry-ready products and services, to support improved medicines discovery and reduce the use of animals in research.

The T2T scheme offers NC3Rs-funded researchers the opportunity to develop a collaborative project with Medicines Discovery Catapult, building upon their original NC3Rs grant. Each award is for £50k, with the Medicines Discovery Catapult providing matched in-kind contributions including access to industrial expertise, facilities and equipment.

Dr Anthony Holmes, NC3Rs Director of Science and Technology, said: "The T2T awards will support four exciting technologies in crossing the '3Rs valley of death' that often exists between model development and the wider uptake needed to achieve the impacts on animal use and welfare. Importantly, working with Medicines Discovery Catapult also provides a fantastic opportunity to realise the potential that these technologies have for use in medicines discovery pharmaceutical industry."

Dr Sally Price, Head of Cell & Translational Sciences, Medicines Discovery Catapult, said: "The T2T awards play an important role in supporting the translation of non-animal?in vitro?models and technologies into research tools that can be applied confidently in the pharmaceutical industry to support improved medicines discovery. These are four exciting projects and we are looking forward to working with the teams to help achieve the greatest scientific and commercial impacts possible."

The NC3Rs is a UK-based scientific organisation dedicated to replacing, refining and reducing the use of animals in research and testing (the 3Rs).