News
Huge Grant Win for QMUL in Transport Engineering
2 May 2019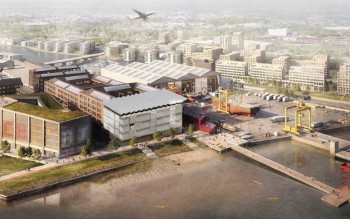 An artists impression of the new IOT facility located on the river front of the Albert Island Development.
The Department of Education and other funding partners have together pledged a significant grant to QMUL and our partner Newham College to establish the London Institute of Transport Technology in East London's historic Royal Docks. A total of 12 Institutes of Technology (IOTs) will be established with total funding of about £180M. The QMUL facility will focus on supporting local young people in East London working or wanting to work in the transport sector. A new building is being designed for completion in 2022 on Albert Island in East London's historic docks area.

Prof James Busfield in SEMS notes: "We started this collaboration in early 2017 and have seen a very collaborative and effective team develop with the simple aspiration of improving skills training in transport engineering in East London. With Newham College as our primary partner we can provide a social mobility escalator delivering opportunities from level 3 apprenticeships right up to level 7 masters degree apprenticeships. Now we have secured the capital funding the fun part of the project can start."

Education Secretary Damian Hinds said: "These new Institutes of Technology will be the pinnacle of technical training – new collaborations between universities, colleges and business to make sure young people have the skills they need to build a well-paid rewarding, career, while the economy gains the skilled workers it needs to be more productive."

The Mayor of Newham, Rokhsana Fiaz added: "The institute will be vital in supporting our local economy to thrive where local residents can access training and develop skills making them fully prepared to take advantage of this evolving digital and technological age."