News
Hugh Boys passes his PhD
16 November 2018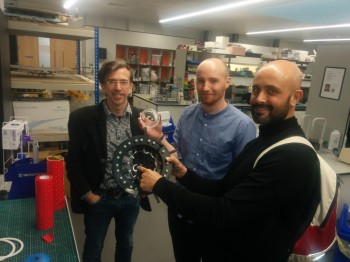 Hugh is photographed with his two examiners, Kaspar (on the left) and Guiseppe (on the right) in teh SEMS lab where he made all his devices.
Hugh Boys has passed his PhD today. His project was funded by the EPSRC MAT Programme grant. The examiners (Giuseppe Zurlo, National University of Ireland and Kaspar Althoefer, QMUL) noted, "Hugh did a lot of thorough work. The systems engineering was very impressive combining a low-cost tracking system, tactile rendering device, micro-controller and custom step-up voltage generator."
His thesis is titled "A Soft touch: wearable electroactive polymer multi-finger soft tactile displays". His main novelty being that he has produced much lighter wearable tactile actuator than anyone else.
This was a joint SEMS/EECS PhD supervised by Stefan Poslad (EECS), James Busfield (SEMS) & Federico Carpi (Università degli Studi di Firenze).