News
Organ-on-a-Chip Network launch a great success
13 September 2018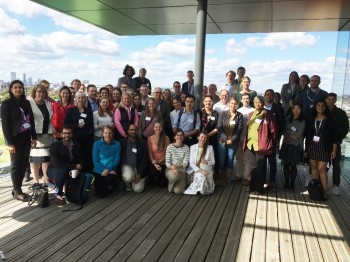 Launch event group photo on Graduate Centre terrace at QMUL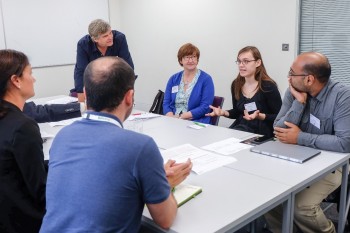 Group working session on network priorities facilitated by Tom Crabbe, UCB
The UK Organ-on-a-Chip Network official launch took place last week. On the 6th of September there was a conference day, held in conjunction with the BioMedEng18 Conference, taking place at Imperial College London and followed by a launch day at Queen Mary's Graduate Centre on Friday the 7th.
This network heralds the dawning of a new, vibrant, multi-disciplinary community in Organ-on-a-Chip technology and in vitro models in the UK. The launch attracted a wide range of people working in industry and academia, travelling from across the UK, Europe and from as far as the USA to start working together in this exciting area of biotechnology.
Using living cells to create 3D miniature mimics of biological systems, Organ-on-a-Chip (OOAC) devices may provide an alternative to animal testing and have the potential to transform pharmaceutical and clinical research - making a difference to future human and animal health. Finding new models for disease, enabling drug development and delivering personalised medicine are major areas in which this technology could have an impact.
The network, hosted by Queen Mary University of London, was awarded funding through the joint research council Technology Touching Life scheme in 2018 and is led by Professors Hazel Screen and Martin Knight. The aim is to establish a research community which will overcome key technological problems to advance the development of 'Organ-on-a-chip' devices.
The launch included an Organ-on-a-Chip session as part of the BioMedEng18 Conference with a fascinating Network Inaugural Lecture on innovations in this field from Dr Geraldine Hamilton, President & Chief Scientific Officer of Emulate Inc. This was followed by a day of networking activities, including talks reviewing the current state of the field from industrialists: Dr Malcolm Wilkinson, Kirkstall Ltd and Dr Malcolm Haddrick, Catapult Medicines Discovery.
Professor Screen was delighted with the launch: "More than 500 delegates attended the BioMedEng conference this year, and it was wonderful to see so many of them in the Organ-on-a-Chip research session; the level of interest in the technology is fantastic, also evidenced by the completely full lecture theatre for our wonderful inaugural lecture from Emulate Inc. We planned the launch to provide a platform for our partners in industry and academia to present their work and outline the current status of OOAC platforms; to encourage people to start helping us shape how the network will work for the community; and most importantly, to start talking about future collaborations with each other. It was great to see people deep in conversation and feel the energy and enthusiasm generated."
Professor Knight said: "It was fantastic to see the level of industry involvement in this exciting technology. Industry are essential partners if research in this area is to be translated into workable products."
The network is part of a major new Research Councils UK (RCUK) venture called Technology Touching Life [1] involving joint research council funding, which aims to foster interdisciplinary research into innovative technology in the health and life sciences.
If you are interested to find out more about the network, please visit our website
www.organonachip.org.uk
(1)
https://www.ukri.org/research/cross-organisational-themes-and-programmes/technology-touching-life/
Updated by: Laura Crane-Brewer