News
Queen Mary awarded funding to build instrument which will revolutionise monitoring of cellular processes
29 May 2018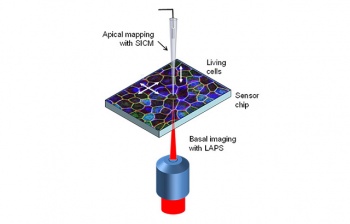 The instrument will combine two electrochemical imaging techniques which measure cell responses on the top and bottom layer
Queen Mary University of London has been awarded funding to lead a joint project to build an instrument which will revolutionise the monitoring of cellular processes in tissues that line organs.

The grant from the Engineering and Physical Sciences Research Council (EPSRC) has a total value of £823,329 over three years, with £674,639 awarded to the School of Engineering and Materials Science (SEMS) and the rest going to project collaborators at Queen's University Belfast.

Epithelial and endothelial tissues line the cavities or surfaces of organs such as the eyes, lungs, gastrointestinal and urinary tract or blood vessels. Impaired function of these tissues is linked to many health issues including blindness, atherosclerosis and diabetes.

The cells in these tissues are strongly polarised and display different properties on the apical (top layer) and basal (bottom layer) sides. This polarised nature is crucial for their function, and events on one side directly affect the other side. Hence, there is a great need for tools capable of investigating apical and basal sides simultaneously.

Simultaneous imaging

In this project, a novel instrument will be developed that will revolutionise the ability to monitor cellular processes and cell communication in polarised cells by simultaneously imaging cells apically and basally. This will provide information about apical cell morphology and basal ion concentrations and electrical signals such as cell surface charge and impedance.

The instrument will, for the first time, combine two electrochemical imaging techniques that have previously been used independently to measure cell responses. These are known as Light-Addressable Potentiometric Sensors (LAPS) which measure responses on the basal side and Scanning Ion Conductance Microscopy (SICM) which measures on the apical side.

Dr Steffi Krause, principal investigator from SEMS, said: "By combining LAPS and SICM, we can carry out functional electrochemical imaging simultaneously both apically and basally. This will provide us with new insights into the transport mechanisms through epithelial and endothelial tissues with unprecedented detail and contribute to the understanding of physiological processes and disease mechanisms."

Used to investigate diseases

The instrument will be used to investigate the mechanisms of age-related macular degeneration - the most prevalent cause of blindness in the elderly - as well as diseases linked to increased permeability of the walls of blood vessels such as atherosclerosis, diabetes and renal diseases.

Investigators on the project also include Dr Pavel Novak, Professor Wen Wang, Professor Michael Watkinson (Keele University) and Dr Imre Lengyel (Queens University Belfast).
Updated by: Laura Crane-Brewer