News
Queen Mary Awarded Funding to Establish Organ-on-a-Chip UK Network
16 April 2018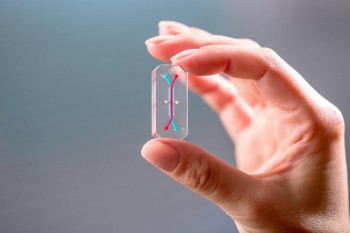 An Organ-on-a-Chip device (Emulate, Inc.)
Queen Mary University of London has been awarded funding to lead a UK network in the development of 'Organ-on-a-chip' devices.

The network will be part of a major new Research Councils UK (RCUK) funding venture, Technology Touching Life [1], which aims to foster interdisciplinary research into innovative technology in the health and life sciences.

Organ-on-a-chip devices are miniaturised artificial organs, which can be used in a laboratory to test drugs and understand how the body works. Bioengineers are designing a wide range of such devices to mimic different human organs, each incorporating multiple types of human cells and recreating the full range of physical and chemical conditions experienced by the organ in the body.

Organ-on-a-chip research offers the potential to improve the testing of new drugs or therapies to determine if they work safely and effectively in the body. These bioengineered devices will also reduce the need for animal testing and enhance the development of new medicines.

The bid, led by Professors Hazel Screen and Martin Knight, from the Institute of Bioengineering at Queen Mary's School of Engineering and Materials Science, focuses on bringing the UK research community together to tackle the major technological questions associated with developing and building new organ-on-a-chip devices.

Professor Screen said: "Organ-on-a-chip devices have the capacity to replace animal testing, and accelerate drug discovery whilst reducing costs. Further, an individual's cells can be implanted into such a device, which makes it possible to see how that individual's body will respond to a certain treatment such as a specific drug combination, paving the way to a future of personalised medicine."

"The potential for this technology is outstanding, letting us see biological mechanisms and behaviours we have never been able to see before, to understand more about how diseases or injuries develop.
She added: "A true paradigm shift in the development of technologies for organ-on-a-chip models necessitates a far more coordinated and collaborative approach between engineers and life sciences in the UK. This network will enable us to build a vibrant and active research community in this exciting emerging research area."

Multi-billion dollar market

Market forecasts predict that the current million dollar organ-on-a-chip market can realistically expect a compound annual growth rate of around 38-57% over the next five years, rapidly becoming a multi-billion dollar market [2].

Professor Martin Knight said: "The UK houses outstanding bioengineering research. However, if the UK is to begin leading in organ-on-a-chip development, we must bring this community together, so they can support each other, and provide the crucial cross-discipline expertise."

Queen Mary's co-investigator team for this venture brings leadership from across the UK, spanning Imperial College London (Professor Anthony Bull), University of Oxford (Professor Andy Carr), University of Keele (Professor Alicia El Haj), Institute of Cancer Research (Professor Paul Workman), University of Sheffield (Professor Julian Gunn) and University of Glasgow (Professor Matt Dalby).

Professor Martin Knight added: "The link to industry is critical to the long term success of organ-on-a-chip devices, and with over 200 academic and industrial researcher leaders already engaged, we are excited to launch this UK network in organ-on-a-chip technologies."
Technology Touching Life is a joint initiative from the Biotechnology and Biological Sciences Research Council (BBSRC), the Engineering and Physical Sciences Research Council (EPSRC) and the Medical Research Council (MRC).

--
[1] https://www.ukri.org/research/cross-organisational-themes-and-programmes/technology-touching-life/
[2] Clerc S, Villien M (2017) Organs-on-Chips Market & Technology Report (April). Yole Development.