News
Wrestling with my supervisor!
10 April 2017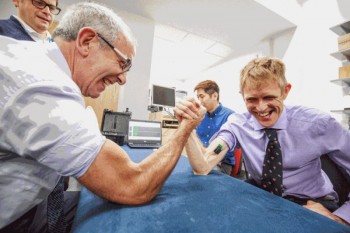 Professors Dan Bader and Martin Knight were attendees at the IRC celebration day, testing their muscle activation at a Laboratory demonstration in the Human performance laboratory. Prof Bader (with the better biceps) was my PhD supervisor!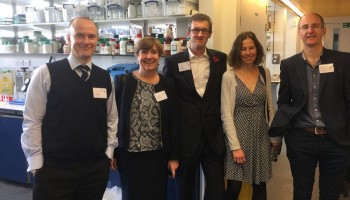 IRC alumni: Dr Steve Blatcher, Prof Julia Shelton, Dr Iain McDougal, Dr Sarah Knight, Dr John Shaw
In November 2016, we celebrated 25 years since the start of the Interdisciplinary Research Centre (IRC) in Biomedical Materials at Queen Mary University of London. The IRC which was set up by Prof Bill Bonfield delivering high quality research including the development of bone graft substitute materials.

Prof Knight was one of the PhD students at the IRC that provided world-leading multidisciplinary research into bioengineering and biomaterials.