News
Michele Ghilardi wins the Presentation Prize at EuroEAP 2017
7 June 2017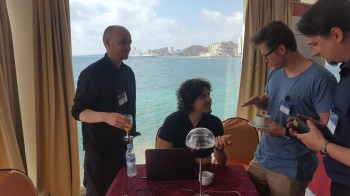 Hugh (left) and Michele (2nd left) are busy explaining their prototype device to conference delegates.
After the victory the QMUL team is seen relaxing in Spain.
Michele Ghilardi a PhD student supervised by Prof. Federico Carpi and Prof. James Busfield has won the Best Presentation Prize at EuroEAP 2017. In his talk an entirely novel design for a dielectric elastomer actuator-driven positioning system was deomnstrated live. Prof. James Busfield noted that "The demonstrator, created in partnership with Hugh Boys, was very highly regarded by the judging panel as a highly accomplished prototype."