News
Prof Nicola Pugno is awarded the Griffith Medal of the IOM3
11 July 2017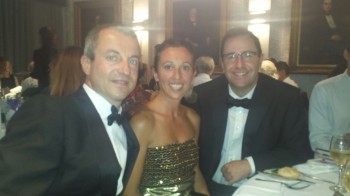 Nicola (seated left) accompanied by his wife Chiara and James Busfield at the gala dinner.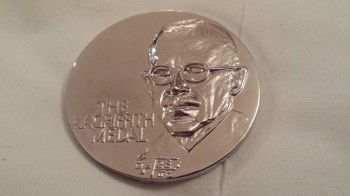 The AA Griffith Medal
Prof Nicola Pugno was awarded the AA Griffith Medal and Prize at a gala dinner in London on the 11th July 2017. The prestigious medal and prize is awarded annually by the IOM3. Nicola is the third QMUL staff member to receive this prestigious prize after two former Heads of Departments in Materials, Prof Edgar Andrews in 1977 and Prof Bill Bonfield in 1991. The citation for the award celebrated Nicola's contribution to research into carbon nanotubes, graphene, bio-inspired materials, such as gecko-inspired super adhesive surfaces, lotus leaf-inspired super-hydrophobicity and self-cleaning surfaces, limpet teeth-inspired super-strong materials, spider silk-inspired super-tough materials and bone-inspired self-healing materials.