News
Post-Application Open Day Success
4 December 2013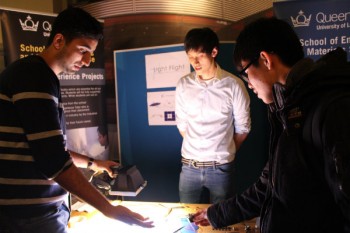 This MEng team, Light Flight, demonstrate the principles behind solar powered unmanned aerial vehicle (UAV). Photo courtesy of Tak Yi Fan (4th Aero).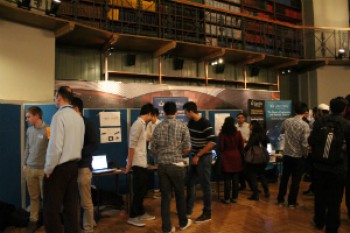 Prospective students and academics speak to the MEng students about their research projects. Photo courtesy of Tak Yi Fan (4th Aero).
The first of this year's post-application open days took place on Monday 4th December in the Octagon where over 60 prospective SEMS students were in attendance.
The A-Level students had the opportunity to put queries to the Programme Directors and academics, the admissions team and the student representatives. They also had the opportunity to see the campus and the lab facilities available for use by SEMS students.
On the day, many prospective students spoke of how helpful it was to speak to the student representatives. The SEMS Ambassadors gave friendly and informative campus tours whilst the MEng students spoke of their projects and the skills they have gained throughout their time at SEMS which will help them in their research.
The day would not have been such a success were it not for the help of all of people mentioned above. A big thank you goes out especially to the student representatives.
If you would like your MEng project to feature at the next open day, please contact Corinne Hanlon (
c.hanlon@qmul.ac.uk
).
Updated by: Corinne Hanlon