News
QMUL engineering students battle to become Britain's greenest drivers
18 June 2013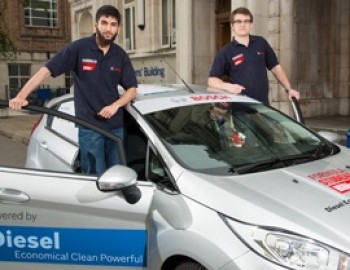 Two engineering students from Queen Mary, University of London will jump behind the wheel for the first stages of a non-stop driving challenge across the length of Britain in a bid to be crowned the nation's most economical driver.

Teams from 46 universities across England, Scotland and Wales will compete in the 1,701-mile Formula Student Diesel Eco Driving Challenge, which is expected to take almost three days to complete.

Third-year QM engineering student Chris Holgate will drive the Ford Fiesta, powered by a 1.5-litre TDCi diesel engine from the Institution of Mechanical Engineering headquarters in Westminster to Queen Mary in Mile End. Ahmed Meza, a first-year aerospace engineering student at QM, will drive the car to City University before the route heads south along the coast and then west towards Swansea. The car will then zigzag across England and Scotland towards the final destination of Aberdeen University on 21 June.

Chris Holgate who is also Chief Engineer for Queen Mary Racing, a student society, said: "As a 'green' engineer and a motorsport enthusiast, I am enthralled to be taking part in an event that links speed with sustainable energy."

Monitoring equipment designed by Bosch will analyse the efficiency of each team's driving, with three awards up for grabs, which cover city, rural and highway driving. Distances between universities range will from three miles to over 100 miles, but each team will be monitored equally.

Peter Fouquet, president of Bosch UK, said: "With the help of Bosch technologies, the vehicle being used for the Formula Student Diesel Eco Driving Challenge achieves low CO2 emissions of just 98g/km. In the near future, Bosch sees the potential across all vehicle models for even greater CO2 emissions reductions – of up to 20 per cent in some cases."

The students will be joined in the vehicle by an AA representative, who will help with the route and economical driving tips. Shell will be supplying diesel throughout the competition, which is jointly run by Formula Student, Europe's most established educational motorsport competition managed by the Institution of Mechanical Engineers, and Bosch.