Events
Skills and Employability (SkEmp) Week 2023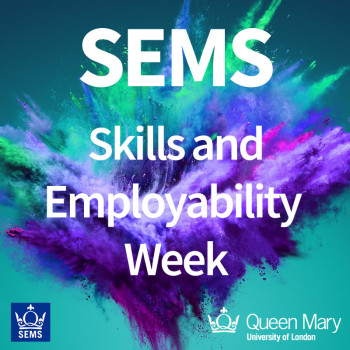 Dates: Monday 6-Friday 10 November 2023
Location: Various (See event description)
Monday 6th November
09:30 - 11:00 Y1 - EMS499 (Session 1) - Engineering Communication skills
Mandatory session for all 1st year Students. This session will provide an introduction to the theory of storytelling so you can understand the practice and logic of storytelling, why thinking in stories can help create connections that are essential to communicate effectively at work. An essential aspect covered is why stories have impact and how you can superpower them into your personal brand for developing your Engineering career.
Where: Great Hall
11:00 - 12:00 Industry Talk - Nanoforce Technologies Ltd.
Nanoforce Technology Limited is an open-door industry-facing research and development company committed to delivering state of the art material solutions based on advanced processing technologies.
Over the years, Nanoforce has created a strong strategic partnership with governments, industry and other research organisations to identify market requirement and to transform scientific expertise into diverse industrial applications in Aerospace, Creative industry, Environmental sustainable materials, Healthcare, Renewable energy, Energy storage and Bio-technology.
Where: Eng324. Register for the Nanoforce Industry Talk
13:00 - 14:00 Y1 - EMS499 (Session 2) Identifying & Building your K.A.S.E (Knowledge, Attributes, Skills & Experience)
Mandatory session for all 1st year students. This introduction to careers & employability is designed to help you how to explore your career options during your time at university and acquire experience to enable you to meet your career goals post-University, whether that be work, study or launching your own enterprise.
Where: Great Hall
13:00 - 14:00 S&E Skills & Employability: 'Should I do a Masters'
This workshop will look at the decision making process around whether or not masters study is something you should be considering. The application process will also be touched on.
Where: IQ East 0.14. Register for the Masters Workshop
13:00 - 14:00 S&E Skills & Employability: 'How to ACE Interviews'
Interviewing or expecting to interview for an internship or graduate role? Want to know how to ace this interview? Then come along to this central workshop run by our Careers Consultant, Stefan Couch.
Where: IQ East 0.15. Register for the Interviewing Workshop
15:00 - 16:30 S&E Skills & Employability: 'Crafting your strongest C.V.'
Whether you're currently in the process of applying for an internship, placements, graduate opportunities or just want a strong CV on hand, join us for this session on 'Crafting your strongest CV' delivered by Abu Kalam, Student Employability Advisor from the Careers & Enterprise team.
By the end of this session, participants will have a clear understanding of how employers screen CVs, how to tailor your CV to the role you're applying for and understand what 'good evidence' looks, as well as identify and market your own unique selling points.
Where: IQ East 0.14. Register for the CV Session
---
Tuesday 7th November
11:00 - 12:00 Y2 EMS599 (Session 1) - Self & Peer Review Workshops
Mandatory session for all 2nd year students. Self- and Peer assessment: Self- and peer assessment are activities that can improve your overall skills in reading, writing and understanding the quality of work developed by you or by other colleagues. These are also very helpful to identify areas where we can improve personally or working in teams. In this session you will learn the fundamentals of self- and peer assessment, develop skills in assessing yourself and others and practice how to give feedback that can be used to improve your work and the performance of others around you.
Where: Great Hall
12:00 - 12:30: Y2 EMS599 (Session 2) - The Value of Work Experience, and approaching applications Ft Atkins.
Mandatory session for all 2nd year students. This workshop will focus on the benefits of gaining work experience and undertaking an industrial placement during your degree programme, what is often referred to as Experiential Capital. Experiential Capital helps you understand more about what you might like to pursue in your career after graduation and importantly is hugely beneficial to your employability.
We'll be looking at why it's important to acquire work experience in the context of demonstrating motivations, and showcasing skills that employers are looking for ahead of applying for graduate roles/programmes.
Where: Great Hall.
13:00 - 14:30 S&E Skills & Employability: 'How to ACE Assessment Centres' (Assessment Centre Experience) Ft. Atkins
Learn what to expect from assessment centres, as we explore what they may entail and how you're assessed, busting myths and sharing practical ways to prepare. Gain hands-on experience with assessment centre activities. Read Hossein's (BioMed Eng) experience of attending this event

Where: IQ East 0.14. Register for the Assessment Centre Workshop
15:00 - 16:30 S&E Skills & Employability: 'Mock Interview Workshop' Ft. Akins
In this hands-on and interactive mock interview session, you'll have the opportunity to practice your interview skills.
We'll be busting myths, sharing practical tips and guidance as well as giving you hands-on experience with using interview techniques such as using STAR (or CAR) for competency based questions or using the 3 R's technique to acing those motivational questions too.
Where: IQ East 0.14. Register for the Mock Interview Workshop
---
09:00 - 11:00 Y3 EMS699 (Session 1) Ethics in Engineering
Mandatory session for all 3rd year students. The session will provide an introduction to use ethics in the Engineering profession, as required by the Royal Academy of Engineering and the Engineering Professors Council. It will cover aspects of thinking and acting with ethics, avoid misconduct and dishonesty and making decisions using ethical principles.
Where: Great Hall
10:00-12:30 SEMS Research Showcase, People's Palace
The morning session will showcase the research projects of our PhD students and postdoctoral researchers through a poster session and flash presentations.
13:30-15:00 Employer panels
There will be a series of student panels taking place. The panels will include employers, alumni and current students on placement.
Panel session 1: Room GC201, Graduate Centre
Panel session 2: Room GC222, Graduate Centre
Panel session 3: Room GC10, Peston Lecture Theatre, Graduate Centre.
These sessions are a fantastic opportunity to learn more about the potential sectors of employment you may be interested in. There will be an opportunity to learn about the companies internship, placement and graduate schemes! The Panel Sessions are open to all SEMS students but you must register to reserve a place as places are limited.
15:00 - 16:00 Y3 EMS699 (Session 2) Succeeding in the Recruitment & Selection process Ft. Atkins
Mandatory session for all 3rd year students. Join us for this workshop focusing on preparing for Interviews & Assessment centres, here we'll be developing an understanding of the different type of interview questions and how to expertly answer these, as well as exploring other stages of typical recruitment & selection processes' including video interviews and psychometrics tests. This workshop will also demystify assessment centres and incorporate resources and tools that will prepare you for success on the day.

Where: Great Hall
Other Workshops - Wednesday 8th Nov
13:00 - 14:00 S&E Skills & Employability: 'Careers Management - Effective Goal Setting and Career Planning'
Learning how to set goals and plan your career is an essential skill that you will use throughout your life. Join this session to learn more about how to be proactive and effective in both areas to help you find a career and next steps after graduation that you will enjoy.
Where: Online. Register for the Careers Management Session
14:30 - 16:00 S&E Skills & Employability: 'Psychometric Tests Workshop (Numerical, Verbal, Logical Situational) w/ Graduates First & Academic Services
Used by many large graduate employers in the initial stages of their recruitment & selection process (in most cases, before they've even looked at your CV and cover letter. This session will help you best prepare for different types of tests used - Graham from Library Services will deliver a hands-on session talking you through numerical/mathematical logic tests, and Phil from GraduatesFirst will be giving an overview of the platform and the many practice tests and other resources QM students have access to.
Where: Online. Register for the Psychometric Test Workshop
---
Thursday 9th November
11:00 - 12:00 S&E Skills & Employability: 'Using online platforms for careers success (Networking, Researching Employers, Gaining Virtual Experience) ft. The Forage & Gradcracker'
This session will focus on utilising various online platforms, such as LinkedIn, The Forage & Gradcracker to their fullest potential - understanding how we can use these platforms to build career success from building an awareness of different employers in the industries that interest you, identifying and building a relevant network to gain an insight into certain careers/employers to using online tools to build skills and demonstrate a passion for particular industries through virtual work experience and short courses.
Join Pash (Careers Consultant, QMUL), Jessica (Gradcracker) and Alia (The Forage) as we demonstrate the power of these platforms as a tool that can aid you in achieving your career goals.

Where: Online. Register for the Online Platform Session
13:00 - 14:00 S&E Skills & Employability: 'Being Reasonable - Accessing disability support during the recruitment process'
Employers increasingly recognise the importance of providing support for all of their employees to enable them to unlock their potential and perform fully in their role. However, knowing what types of support and adjustments to provide for those with a disability isn't always clear. And neither is knowing how to source them and how they will actually work in practice.
This workshop will explore the many and varied support options and adjustments that people can, and do, benefit from both during the recruitment process and in the workplace. In addition, delegates will also build their understanding about the implementation process and have the opportunity to work through some real-life examples
Where: IQ East 0.15. Register for the Disability Support Session
13:30 - 15:00 S&E Skills & Employability: The Value of Work Experience & How to succeed in securing your placement or internship.
Join us for this session that will focus on:
What constitutes as 'work experience' and why it's important (focusing specifically on summer internships and the year in industry/placement)
Understanding what employers are looking for and ways you can acquire these experiences in your 1st year to have a competitive application going into your second/penultimate year - what do you need to be doing now to hit the ground running next year
Hear from students who have returned from placements/year in industry or internships, hear how they got the opportunity, what they learnt and how it's shaped their career plans going forward.
Where: Online. Register for the Work Experience Session
---
Friday 10th November
09:00 - 10:00 S&E Careers: 'Okinawa Institute of Technology: Fully Funded PhD's & 2-6 Month Research Internships for UG and PG students in Japan'
Staff from OIST (Okinawa Institute of Science and Technology) will host an online information session about research internship and PhD opportunities offered at OIST.
OIST currently offers a fully-funded 5-year PhD programme as well as a 2-6 months research internship for students in bachelor or master programs in STEM fields and all our programs are delivered in English.
Where: Online. Register for the Okinawa Institute of Technology Session
| | |
| --- | --- |
| | |
| Contact: | Pash Selopal |
| People: | |