Events
Women in Engineering & Technology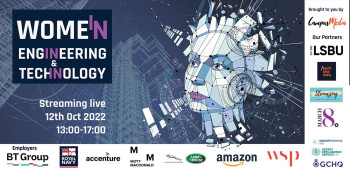 Date: Wednesday 12 October 2022 13:00 - 17:00
Location: Online
Register at: campusmedia.typeform.com/to/Q6IW8Uhu
Women in Engineering & Technology event will be taking place virtually on Wednesday 12th October from 1-5pm
This is a free event for all students to attend and is designed to support them through their studies and careers, by empowering them to pursue their career ambitions and improve their employability. Our aim is to help reduce the gender gap and increase both gender and ethnic diversity into the Engineering & technology industry.
By registering, students will have access to the event live & on demand and can opt in to connect with lots of fantastic student & graduate employers.
We will celebrate inspiring women, welcome leading employers, deliver practical employability workshops, offer live networking with employers and skills coaches.
Event schedule: https://www.campusmedia.co.uk/women-in-engineering-and-technology-2022/
Registration: https://campusmedia.typeform.com/to/Q6IW8Uhu
The event is free to attend virtually and view on-demand. By registering and opting to be contacted by employers, you will receive up to date job opportunities and company insights direct to your inbox!