Events
WISE@QMUL presents 5 Minutes wth Dr Rosalind Hannen, Blizard Institute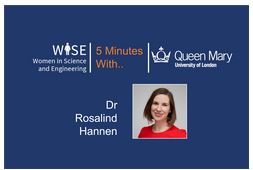 More at
https://www.sems.qmul.ac.uk/staff/r.f.hannen
Date: Friday 1 April 2022
Location: Publishing a short interview
www.qmul.ac.uk/doctoralcollege/phd-students/wise/5mi…
WISE@QMUL presents '5 Minutes With', a new, exciting project.
Every month we will be publishing a short interview with a wonderful female scientist that is conducting research at Queen Mary University London.
You'll see a sneak-peak on our social media channels. New, full interview will be available on our website at the end of each month.
Help us spread the word and inspire the next generation of Women in Science!
About Dr Rosalind Hannen
The WISE@QMUL society is pleased to present our first edition of a series of interview-style Q&As with academics. This month, we sat down with Dr Rosalind Hannen of the School of Engineering and Material Sciences to get to know about her academic journey, and her thoughts on women in STEMM.
Rosalind is an entrepreneur and lecturer in skin biology who obtained her PhD from QMUL in dermato-endocrinology. Her multi-award-winning technology transforms skin culture techniques to advance dermatology by eliminating limitations of preclinical testing. She spun out Keratify in 2018, after winning a MedTech Super Connector grant and multiple Innovate UK grants. In addition to creating new skin culture platforms, her research interests specialize in psoriasis and wound healing for which she has won numerous prestigious grants.
| | |
| --- | --- |
| | |
| Arranged by: | WISE QMUL |
| Contact: | Sharan Sidhu, Pamela Swiatlowska, Holly and Metka @wiseqmul |
| Website: | |
| People: | |