Events
5th Intercalated IOB Symposium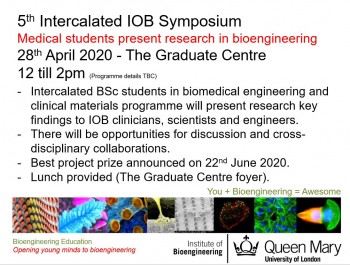 Date: Tue 28 Apr 2020, 12:00 - 14:00
Location: Graduate Centre
Medical students present research in bioengineering
28th April 2020 - The Graduate Centre
12 till 2pm (Programme details TBC)

Intercalated BSc students in biomedical engineering and clinical materials programme will present research key findings to IOB clinicians, scientists and engineers.

There will be opportunities for discussion and cross-disciplinary collaborations.

Best project prize announced on 22nd June 2020.

Lunch provided (The Graduate Centre foyer).