News
Marie Curie fellows deliver at Big Bang in Stanmore
21 July 2015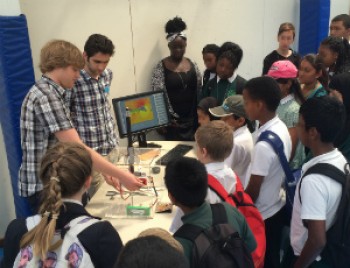 Three Marie Curie AboutFlow fellows, Jan Hueckelheim, Mateusz Gugala and Siamak Akbarzadeh Lalkami, recently took part in The Big Bang London festival at Stanmore College (3rd of July).

Excited school students had the opportunity to manipulate the flight of a drone whilst the fellows answered questions such as "how do planes fly?". The fellows also explained how mathematics and computers can be used to help us design aircraft, ships and wind turbines.

The initiative follows on from the professional skills training organised by the QMUL Centre for Public Engagement, SEMS Outreach team and the Audio Visual unit at QMUL.
Updated by: Corinne Hanlon