News
Performance Artist Stelarc visits the Centre for Advanced Robotics @ Queen Mary
18 July 2023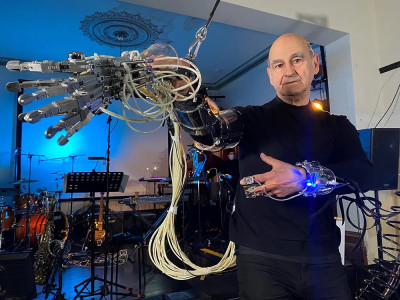 Stelarc and his wearable robotic arm extension
Stelarc, a world-renowned performance artist who pioneered movement augmentation and explored human body and technology interaction in his works was a guest speaker at a special seminar organised by of the Centre for Advanced Robotics @ Queen Mary University of London 25 May 2023.
Stelarc shared his performance experience on body hacking, gene mapping, prosthetic augmentation, organ swapping, face transplants and synthetic skin and his explorations on what it means to be a body and what it means to be human and what generates aliveness and agency becomes problematic.
The seminar was concluded with a demonstration on human body augmentation with supernumerary and wearable robotic limbs created by Stelarc. The talk was attended by over 70 researchers and students from computer science, engineering and biology as well as QMUL guests from other universities.
You can watch the full talk below.
Following the seminar at QMUL, Stelarc performed at IEEE International Conference on Robotics and Automation (co-chaired by Professor Kaspar Althoefer). Watch Stelarc's performance.
Stelarc was invited by Professor Kaspar Althoefer and Dr Ildar Farkhatdinov.