News
Congratulations to Faisal Al-Jaber on successfully defending his PhD
27 March 2023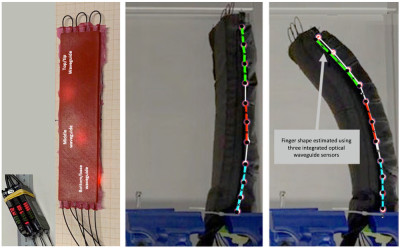 Optical waveguide bending sensor: (left) Three optical waveguides embedded in soft silicone substrate forming bending sensor; (middle) Soft robot finger with integrated waveguide sensor in straight position; (right) Soft robot finger in bent position - shape estimated using the bending sensor with its three embedded waveguides.
Faisal Al-Jaber has successfully defended his PhD thesis, entitled "Soft Optical-Based Sensors Fabrication and Evaluation for Curvature and Pose Estimation of Soft Actuators"
Faisal was supervised by Prof Kaspar Althoefer and Dr Lei Su. In his PhD, Faisal has researched and developed several novel soft sensor systems especially for integration with soft-material robots. His work has advanced the field of soft robotics.
We would also like to extend our appreciation to the two examiners, Prof Uvais Ahmed Qidwai (Qatar University) and Prof Zion Tse (QMUL), for their excellent work in evaluating Faisal's thesis. Their insightful feedback was invaluable.
Once again, congratulations to Faisal on his achievement!