News
Celebrating Science and Engineering at Queen Mary University of London
14 February 2023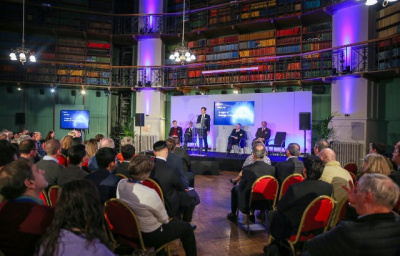 A Night of Science and Engineering in the Octagon
On 8 February, Queen Mary's Faculty of Science and Engineering was joined by a host of distinguished guests to celebrate A Night of Science and Engineering.
Professor Wen Wang, Vice-Principal and Executive Dean for Science and Engineering welcomed all with a speech about the Faculty's ambitions, and also why the event took place, saying: "The advancement of science and engineering is a collective endeavour. That's why we want this to be an interactive and immersive event, giving you a chance to talk to our researchers and ask them questions."
At the event, academic experts from the Faculty exhibited their research for the benefit of the 200-plus guests, who could discover more about the Faculty's ground-breaking work from innovations in bone grafts to sea turtle conservation to research into black holes and the universe.
A highlight of the evening was the conferment of two honorary awards. Queen Mary alumna Dr Ibilola Amao received a Queen Mary Fellowship and the wildlife filmmaker Gordon Buchanan, received an honorary DSc.
Ibilola is an engineer and Chief Executive Officer of Lonadek Global Services, a multi-award-winning, women-owned consultancy which has offices in Lagos, Nigeria and London. Ibilola is also a member of The School of Engineering and Materials Science Industrial Advisory Board.
Ibilola inspired the audience with her speech about the importance of inclusion in Science and Engineering, thanking Queen Mary for its "commitment to excellence in education and diversity", its engagement with the community and how it opens doors of opportunity.
Gordon's DSc was awarded in recognition of his commitment to conservation and the protection of biodiversity, crucial issues that align with one of the Faculty's strategic research themes "Environment, biodiversity and genomics" which is explored in Queen Mary's Research Highway Sustainability, environment, energy.
In his speech, Gordon shared a clip of his film with Queen Mary's Christophe Eizaguirre, Professor of Evolutionary and Conservation Genetics, about turtle conservation. Gordon spoke eloquently about climate change and ecology, while enthusing the audience with his passion for capturing the natural world on film.
A Night of Science and Engineering concluded with Professor Sir Harry Bhadeshia's inaugural lecture "Steeling the Show - Creating Exceptional Alloys of Iron", a tour de force drawing on over 40 years at the vanguard of materials science research.
Find out more about Queen Mary's research at www.qmul.ac.uk/research/research-highways including three new videos from the Faculty of Science and Engineering: