News
Homecoming: NASA engineer Alumnus Dr Ashitey Trebi-Ollennu (Avionics BEng, 1991) explains how to drive a robot on Mars and shares insights into the famous Mars Rover launches
18 November 2022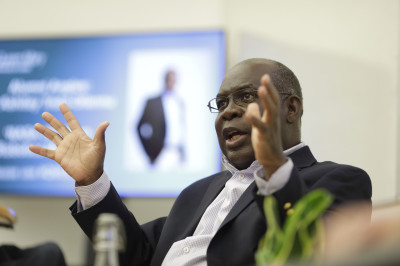 Dr Ashitey Trebi-Ollennu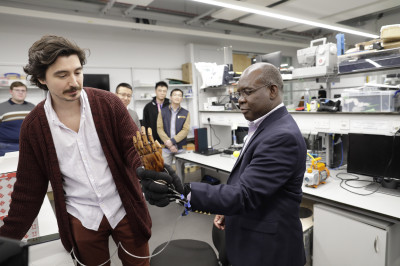 Dr Ashitey Trebi-Ollennu visiting the Robotics Lab in SEMS
After graduating with a BEng in Avionics from Queen Mary University of London in 1991, Dr Ashitey Trebi-Ollennu returned to his alma mater and was greeted like a rock star with more than 100 students, staff and alumni crammed into the People's Palace auditorium.
Introducing Dr Trebi-Ollennu, Head of School Professor Hazel Screen said: "We are extremely proud to not only be able to call Ashitey an alumnus of Queen Mary, but also an alumnus of the School of Engineering and Materials Science."
"I am very humbled to be here. Queen Mary had a huge impact on my life. I just wanted to say a huge 'thank you," said Dr Trebi-Ollennu, who came to study in the UK from Ghana. "I can still feel the intimacy of this campus. It was a very close campus with 4,000 students a year."
Dr Trebi-Ollennu is the Principal Robotics Engineer, Deputy Chief Engineer, and Assistant Division Manager of the Autonomous Systems Division 34, at NASA (National Aeronautics and Space Administration) Jet Propulsion Laboratory at the California Institute of Technology. An internationally renowned engineer, Dr Trebi-Ollennu has played an integral part in many of its major innovations. His work includes the research and development of vehicles and activities for exploring space and outside the earth's atmosphere. It is at the forefront of space robotics systems, including autonomous manipulation, artificial intelligence (AI), human-robot interfaces, planetary rover operations, flight integration systems and space robotics mission concepts.
He was awarded the Royal Aeronautical Society's Individual Silver Medal 2020 for his major contribution to the successful development and delivery of the InSight Mars Mission Instrument Deployment System. This enabled the first robotic deployment by NASA of a seismometer, an instrument that responds to ground noises and shaking, on another planet.
From 2003 onwards, he worked as a mission delivery manager and collected samples from Mars. He operated a robotic arm, discovered water and that you can grow asparagus on Mars. He was the lead engineer on InSight, a NASA spacecraft that landed on Mars and captured sunrise and sunset on the Red Planet thanks to the camera on the robotic arm he manoeuvred. With many students leaning on the edge of their seats, his presentation explained how to drive a robot on Mars and shared fascinating insights into the famous Mars Rover launches.
"I used to be a grave digger on Mars," he joked, grudgingly admitting he was proud of his role to "advance human knowledge and make an impact on society."
What set him apart from his peers? "You have to think out of the box," he said matter-of-factly. A secret to his success was mastering the 'soft skills' to fit into the workplace.
"It is not about knowing the theory. It is about being able to communicate. You can have someone who can do all the calculus in the world in your team, but they need to be able to work in a team to communicate and advance their career."
Since graduating from Queen Mary, Dr Trebi-Ollennu has published more than 100 peer-reviewed publications and his accomplishments have been recognised through numerous awards, documentary movies and articles, including the Royal Aeronautical Society UK Silver Medal 2020.
In an interview for the University's Alumni and Friends blog last year, he recalled the benefits of his degree in providing him with a strong foundation for research, saying, "Because of the nature of my course, I became very good at writing engineer and lab reports and conducting experiments. Whenever I write reports in my job now, it is easy because Queen Mary equipped me with the necessary skills and confidence."
Reflecting on the importance of being able to interact with an engineering team throughout his career, he cited those crucial interactions with academics, including his former supervisor Dr Ranjan Vepa who attended the event, which honed him into the pioneering leader he is today, able to interact seamlessly with senior engineers and managers.
Concluding his speech to the students, who had submitted questions in advance of his talk, he said: "If you are getting 100 per cent grades (as a student), you are not learning. You always have to push yourself. I am catching my mistakes now. I don't want to catch my mistakes on Mars. You have to push yourself. I want you to embrace failure and use it in your engineering."
Many students lined up to meet Dr Trebi-Ollennu. Ying Hao Qin, a PhD Aerospace Engineering student said: "It is an honour to listen to him. I liked that he highlighted the importance of things like cooperation (of a team). I really think it was an inspiring talk."
"It was really interesting. I enjoyed listening to him talk about quartz processes. I like technology and process and hearing about the internal process of a computer. It was a unique opportunity to hear someone of his calibre speaking. It is not something that happens every day," said Borga Daloglu, a second year Mechanical Engineering student.
Surveying the rows of students in the audience, Professor Screen said: "I hope that all of you, one day, when you are in successful careers will use your experience to give back to the students of tomorrow. And, I hope you will always feel proud of your association with your university."
More information