News
Professor Andrew Livingston elected a Fellow of the Royal Society
10 May 2022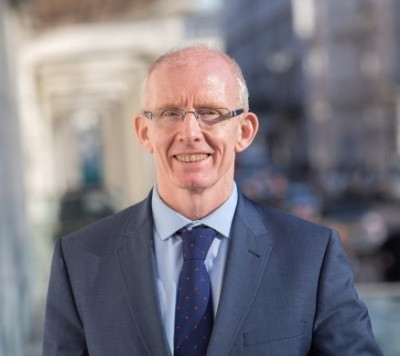 Prof. Andrew Livingston
The Royal Society has elected Professor Livingston, Queen Mary's Vice-Principal (Research and Innovation) and Professor of Chemical Engineering, as a new Fellow.
The election is in recognition of Professor Livingston's achievements in chemical engineering. During his distinguished career, he has worked to create new technology to aid manufacturing chemicals and (bio)pharmaceuticals, discovering and inventing new membrane materials and process designs that have been translated from the lab to real-world application through start-up companies.
Professor Livingston joined the school of Engineering and Materials Science (SEMS) in 2019 and is an internationally renowned chemical engineer, with a wealth of research publications and patents to his name. In addition to his creation of molecular separation membranes, his ideas for separation and purification processes and synthesis of high value polymeric pharmaceuticals have been widely adopted.
In 2006 his impact in his field led to an election to the Fellowship of the Royal Academy of Engineering, and in 2008 he was awarded a silver medal by the Academy for contributions to British engineering.
The Royal Society is the oldest scientific academy in continuous existence, dating back to the 1660s. Its fundamental purpose is to recognise, promote, and support excellence in science and to encourage the development and use of science for the benefit of humanity.
Its Fellowship includes some of the most eminent scientists, engineers and technologists in history. Past Fellows and Foreign Members have included Isaac Newton, Charles Darwin, Albert Einstein and Stephen Hawking.
Professor Andrew Livingston, Vice-Principal (Research and Innovation) and Professor of Chemical Engineering at Queen Mary University of London, said: "I am enormously proud to be elected a Fellow of this historic and esteemed institution. It is a great honour for both myself and Queen Mary. I would like to thank the Council of the Royal Society for considering me for such a recognition. I have been lucky to work with so many talented colleagues during my career, whose help and support along the way has been instrumental in my research and in advancing chemical engineering, and of course in receiving this recognition.
"I am excited about and looking forward to contributing to the work of the Royal Society, and demonstrating the benefits that science can make to the world around us."
Sir Adrian Smith, President of the Royal Society, said: "It is an honour to welcome so many outstanding researchers from around the world into the Fellowship of the Royal Society.
"Through their careers so far, these researchers have helped further our understanding of human disease, biodiversity loss and the origins of the universe. I am also pleased to see so many new Fellows working in areas likely to have a transformative impact on our society over this century, from new materials and energy technologies to synthetic biology and artificial intelligence. I look forward to seeing what great things they will achieve in the years ahead."