News
5th Russell Binions Memorial PhD Research Symposium held at SEMS
27 April 2022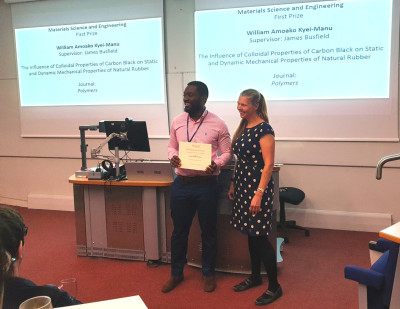 Research Paper 1st prize (Materials Engineering) to William Amoako Kyei-Manu, presented by Prof. Hazel Screen (Head of School)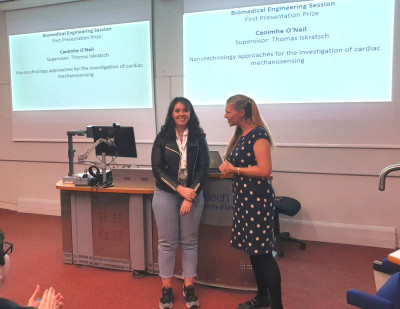 Presentation 1st prize (Biomedical Engineering) to Caiomhe O'Neil, presented by Prof. Hazel Screen (Head of School)
The 5th Russell Binions Memorial PhD Research Symposium was held in-person at Queen Mary University of London on 27th April 2022.
Over 30 PhD students, in their 2nd and 3rd years, presented their research, to staff and students, in fields ranging from Biomedical, Materials to Mechanical and Robotics Engineering. We had a fantastic overview of the breadth and quality of the PhD research carried out at SEMS. Concluding the symposium, Prof. Ian Kinloch (University of Manchester), a world-leading expert in graphene research, gave a plenary talk to a packed audience on how 2D materials can be used in nanocomposite manufacturing.
After the talks, the students and staff mingled over a drinks-reception at the Bancroft Building, which was followed by the prize ceremony, presided over by our Head of School (Prof. Hazel Screen). We were delighted to award prizes both for high quality research papers published by our PhD cohort, as well as for excellent presentations given during the symposium. A total of seven research-paper awards and eight best-presentation awards were made – a tough choice given the high quality of the field.
We are also grateful to academic staff who took the time to chair the different sessions, and most importantly provide feedback to students about aspects of PhD research, career prospects and how to give great presentations. The students and staff engaged well with each other in these feedback sessions.
In its 5th iteration so far, the Russell Binions Memorial PhD Research Symposium is proving a success in showcasing the research accomplishments of our talented PhD student community.