News
Congratulations to Muchun Zhong on Passing Her PhD Viva
29 April 2022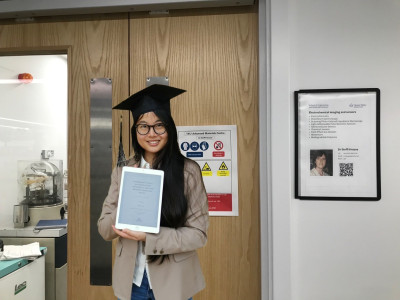 Muchun after her viva
Congratulations to Muchun Zhong passed her PhD viva on Friday 29 April 2022.
Muchun's thesis was titled "Investigation of silicon (on sapphire) with monolayers in LAPS and photoelectrochemical sensors". She was supervised by Steffi Krause and Michael Watkinson.
Muchun presented her work at the International Symposium on Bioelectrochemistry and Bioenergetics in 2019, contributed to two papers and is currently writing a third.