News
Small steps to big changes – SEMS Bronze LEAF Award
17 February 2022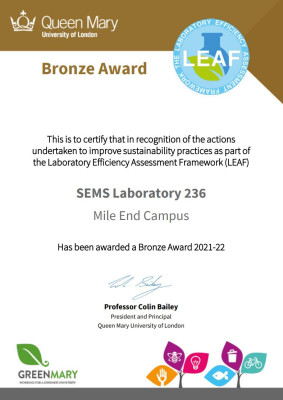 BRONZE Level Award Certificate
Among the great science that is taking place at the School of Engineering and Materials Science Queen Mary University London, we unfortunately unconsciously contribute to the growing problem of carbon footprint.
In 2014, it was estimated that overall lab plastics constitute ~ 1.8% to the global plastic waste. A new ULT freezer consumes as much electricity as an average UK household in a year. Whereas, fume hoods are one of the most energy-consuming equipment in the lab environment. Therefore, closing the sash reduces energy consumption by over 50% in variable air volume fume cupboards. This shows that the action is needed, in order to make a green lab a standard at every university.
To step on a path of creating a more sustainable lab and support the net zero strategy, we joined the Laboratory Efficiency Assessment Framework (LEAF). LEAF is a nationally recognized scheme that offers guidance, advice, shares best practice on improving sustainability and efficiency of the lab areas.
We are happy to announce that 2nd floor lab areas (236-239, 240 A-G) just received BRONZE LEAF Award Certification.
Special recognition goes to Dr Pamela Swiatlowska, Dr Stefania Di Cio, Dr Clare Thompson, Daniele Marciano, Arun Jaitly, Davide Carta and Catrin Bevan. A team effort of PhD, PDRAs and a technician. Also, many thanks to those who agreed to join the sustainability groups in respective areas.
Implementation of the environmentally friendly actions were discussed with the Research Laboratory Manager, Dr Armando Lacerda and laboratory technicians.
Once again huge congratulations to everyone! Next goal: SILVER level.
We hope to inspire other labs in the school to follow our steps.
If you would like to take part in LEAF please register your lab. Further information can be found at Queen Mary Sustainable Laboratories (LEAF). For any questions, reach out to our very supportive Queen Mary Sustainability team.
* 236 area BRONZE certificate presented here. Certificates were issued for each area.
| | |
| --- | --- |
| | |
| Contact: | Dr Pamela Swiatlowska |